This post is also available in: Spanish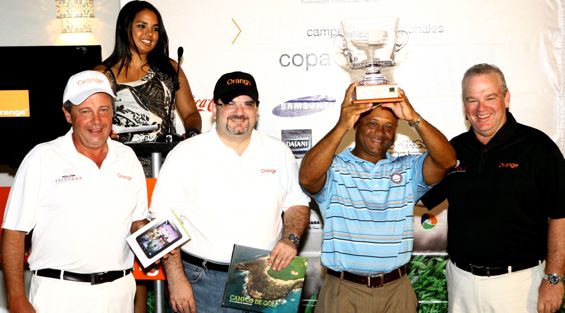 Last week, from the 23rd to the 26th of June, 180 of the Dominican Republic's best golfers gathered in Casa de Campo and took part in the 'Campeonatos Nacionales 2011', the Dominican Golf Championships, at the end of which all the participating golfers received their oficial golf rank in the Dominican Republic and the winners of the various categories received prizes and trophies to recognize their achievements. 
Click here for photos of  "A cocktail with Orange Dominicana n honor of Pete Dye" 
The 4 day golf tournament, also known as the 'Copa Orange' took place on Casa de Campo's famous Pete Dye designed golf courses; the Teeth of the Dog and the Dye Fore and ended with a monumental sudden death finale in category A, between veteran Juan Manita Campusano and Ernesto Vietienes, who had to play hole #18 four times in order to decide winner, with Campusano finally being crowned the champion. Meanwhile, in the professionals category Julio Santos took home the 'Copa Presidente' and a cash prize of RD$100,000.
Vincent Bouyer, Eduardo Valcarcel, Julio Santos and Juan Cohen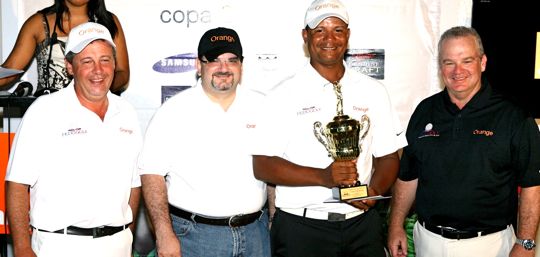 The complete tournament results are as follows:

Category A
1st Place: Juan Manita Campusano (301)
2nd Place: Ernesto Vietienes (301)

Category Professional
1st Place: Julio Santos (291)
2nd Place: José Tejada (304)

Category Mid-Amateur
1st Place: Roberto Ortiz (306)
2nd Place: Miguel Feris (306)

Category Senior A
1st Place: Mairení Bournigal (301)
2nd Place: Manuel Ovalles (325)

Category AA
1st Place: Pablo E Rodríguez (312)
2nd Place: Pedro Peña Ramos (327)

Category B
1st Place: Diógenes Castillo (251)
2nd Place: Rommel Pepén (253)

Category Senior B
1st Place: Nelson Florentino (245)
2nd Place: Alfredo Freites (253)

Category C
1st Place: Eduardo Jiménez (247)
2nd Place: Frank Jorge Brown (250)

Category Senior C
1st Place: Federico Félix (281)
2nd Place: Leonidas Ubiera (292)

Category D
1st Place: Manuel E. Díaz (286)
2nd Place: Miguel Hernándezs (292)

Category Súper Senior
1st Place: Rafael Canario (329)
2nd Place: Enrico Crasso (330)

Womens A
1st Place: Karina Sánchez (352)
2nd Place: Patricia Peña (359)

Womens C
1st Place: Rosa López (292)
2nd Place: Dilcia Mejía (293)
As part of the event, Orange hosted a cocktail in honor of famous golf course architect Pete Dye, which took place on Saturday evening at the Dye Fore – photos of this coming soon!