This post is also available in: Spanish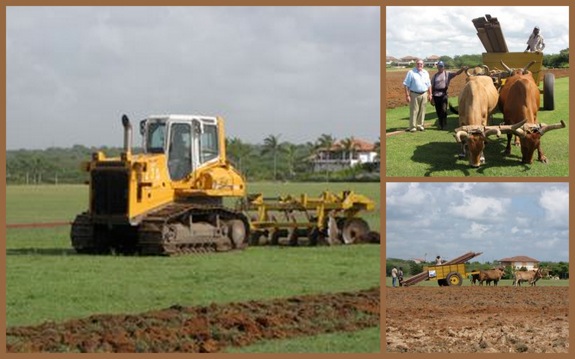 Last week renovation began on the Casa de Campo Polo fields.
Out with the old and in with the new! The fields have been replanted with Paspalum Bermuda grass and the current Casa de Campo polo club facilities are being expanded.  This work is being done under the instruction of Alfonso Paniagua, Director of Costasur and with the supervision of Ingeniero Olivo.
The Casa de Campo Polo Club's Director, Calixto Garcia-Velez talks about the motivation behind this new project:
In keeping with Casa de Campos recent renovations to its world class hotel and golf courses, the Casa de Campo Polo Club is renovating its polo fields to provide an unparalleled  polo destination to the international polo set as well as our ever growing base of local players.  Casa de Campo Polo Club with its vast array of world class polo facilities and amenities will be the place to play  during the 2011 polo season for the discerning polo traveller.
What I absolutely love is the use of good old classic farming methods – nothing better than oxen to pull that load!!