This post is also available in: Spanish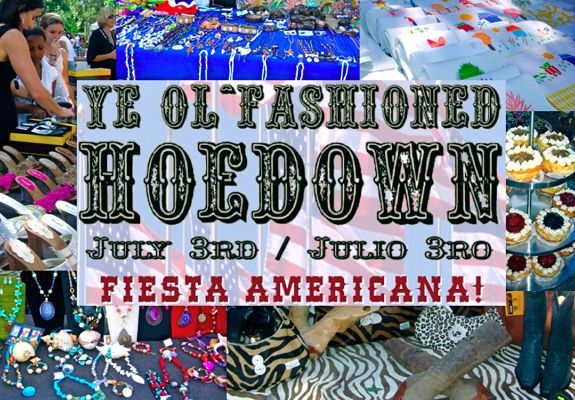 Following the GREAT success of the Casa de Campo Living Bazaar in Altos de Chavon last weekend, Casa de Campo Living is now busy planning our next event: 'Ye Ol'Fashioned HOEDOWN' on Saturday July the 3rd, an American/Western themed party to celebrate the 4th of the July weekend. (ABAJO EN ESPAÑOL)
As part of the "Ye Ol'Fashioned HOEDOWN" we will have another Bazaar, the Bazaar will be held inside the main event area, within the Rodeo at the Dude Ranch. As at the Bazaar in Altos de Chavon, tables will be available for people and/or businesses to publicise their services or sell their products.
For more information and to reserve your table email: [email protected]
This event is being sponsored by Land Rover by AutoBritanica, who will be creating various automobile displays with their 2010 models of the Range Rover, Range Rover Sport and the Discovery 4 – beautiful, reliable and safe SUV's ideal for manouvering over Casa de Campo's many speed bumps and carrying the family safely into La Romana and beyond….

The event is also being sponsored by Jack Daniels Whiskey, America's favourite Bourbon, who will be setting up a Jack Daniels Whiskey Bar – perfect for getting all you cowboys and cowgirls into the party mood!
Over 18's only.
A brief lowdown on the hoedown: (full details to follow)
Activities/features:

cowboys and cowgirls
a donkey polo tournament
a horse show in the rodeo arena
a BBQ
whiskey saloon
beer tent
a cigar lounge
live western/latino fusion music by band 'Top 40'
western dance show
a bazaar
and more!!!!
Dress code: Cowboys and Cowgirls
Donkey Polo Tournament: Teams of 4
ESPAÑOL————————————————————————————————————————————–
Despues el gran éxito de la Casa de Campo Living Bazar en Altos de Chavón el fin de semana pasado, Casa de Campo Living es ahora ocupada planeando nuestro próximo evento: "Ye Ol'Fashioned Hoedown" el sábado 3 de julio – una Fiesta Americana para celebrar el fin de semana de 4 de Julio.
Como parte de la "Ye Ol'Fashioned Hoedown" tendremos otra Bazar, el Bazar tendrá lugar dentro del área del evento, en el Rodeo de la Dude Ranch. Como en el Bazar en Altos de Chavón, mesas estarán disponibles para las personas y / o empresas para promover sus servicios o vender sus productos.
Para obtener más información y para reservar su mesa email: [email protected]
Detalles de La Fiesta Americana:
Actividades/installaciones:
vaqueros
torneo de polo de burro
exhibicion de caballos
BBQ
casita de cerveza
casita de whisky y traigos
area de puros
musica en vivo
exhibicion de baile
bazar
Código de vestimenta: Vaqueros y vaqueras!
Torneo de Burro: Equipos de 4 personas