This post is also available in: Spanish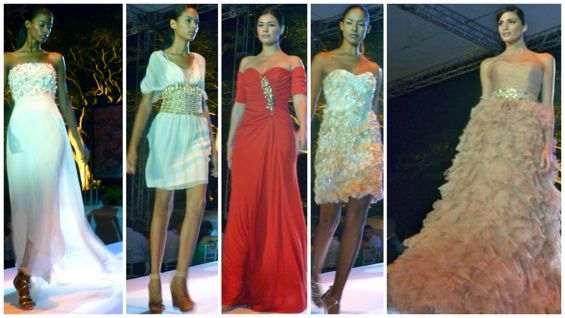 The Magical Splendor for Life Gala and Fashion Show by Badgely Mischka with special guest model Dalia Fernández, the current Miss Dominican Republic and former Miss Universe, Dayanara Torres as Mistress of Ceremonies, is this FRIDAY the 27th of January, but opening this Thursday the 26th of January is the Badgely Mischka Boutique – the perfect opportunity to buy something gorgeous to wear at the gala!
Every year the designers showcasing at the Fundación MIR Magical Splendor for Life Fashion Show and Gala exhibit and sell their collection at a boutique. This years' fashion show is featuring the red carpet evening gowns of fashion designers Badgely Mischka and at the Badgley Mischka Boutique not only will you get the chance to see an advance preview of their spring-summer collection, you may also purchase yourself one (or several) of their exquisite designs – AND with a portion of the proceeds being donated directly to the Fundación MIR you can feel good about your indulgence!
The Badgley Mischka Fashion Show 2011 in Altos de Chavón

Click here PHOTOS and video of the Badgley Mischka fashion show.
As well as Badgley Mischka couture gowns, at the Badgley Mischka boutique you will also find gowns and cocktail dresses from their "Cruise 2012" collection (click here for photos), as well as a selection of purses, perfumes, clothes and other accessories.
Last year, more than 20 Casa de Campo ladies attended the Magical Splendor for Life Gala and Fashion show wearing Badgley Mischka designs they had purchased at the boutique – will you be one of those fashionable ladies this year?
The Badgley Mischka Boutique
Where? Flamboyan Conference Centre
When? Thursday 26th – Sunday 29th January
Opening times: 10am – 6pm (Thursday – Saturday) and 10am – 12pm (Sunday)
Contact Fundacion MIR: 809-523-8270 or [email protected]
The Magical Splendor For Life Weekend 2012

Fashion Show Gala
Presented by Tiffany & Co., featuring the Mystery Blue Boxes, Miss Dominican Republic, Dalia Fernández and designs by Badgley Mischka
Mistress of Ceremonies: Dayanara Torres
When: Friday 27th January, 8pm
Where: Minitas Beach, Casa de Campo
Cost:
• US$1,000 for VIP (runway seating)
• Gold Us$500
• Silver US$300
• Junior US$150

After Party
All guests are invited to celebrate with Miami's DJ Gringo
When: Friday 27th of January, 11pm
Where: Minitas Beach
Cost:
• USD$50 (open bar) and free for all dinner guests

Golf Tournament
When: Saturday 28th of Januray, 1pm
Where: La Romana Country Club
Cost: US$250

Casa Grande VIP and Golf Awards Dinner
When: Saturday January 28th
Where: Casa Grande, Casa de Campo
Cost: This event has no additional cost, but is by-invite-only for golf tournament winners and VIP ticket holders for the Gala event.

Get your tickets now!
For more information, please contact the Fundación MIR at 809.523.8270 (DR) or 561.366.5095 (USA)

We hope to see you there!
Having fun at the Fundación MIR Magical Splendor for Life Gala 2011

Click here for photos of the Magical Splendor for Life 2011!
The Fundación MIR is a non-profit organization which works to provide education to the children of the greater La Romana area, who are most in need. They run 3 schools; the MIR Esperanza (boys vocational school), the Escuela Tecnica Vocacional Fundación MIR (girls vocational school) and the Primaria MIR (infants school).

For more information on the Fundación MIR and to make a donation, visit their website: www.mirinternational.org

To make a donation contact the MIR office in Casa de Campo (809-523-8270) or in West Palm Beach (561-366-5095). Donations are tax deductible for US Citizens!