This post is also available in: Spanish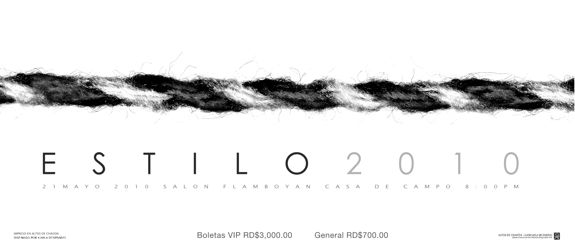 On Friday, May 21, The Altos de Chavón School of Design will present its 26th annual student fashion show in the Salón Flamboyán at Casa de Campo's convention center – it's a special night, when Altos de Chavón's Fashion students present their work to the public.
This year the students are working with the theme of the black and white: the relationship between these two opposites and the way they contrast and compliment each other. Last year the pupil's theme was the Bauhaus, to see photos and read more about last year's fashion show, click here.
Prepare to be 'wowed' by this year's show and the impressive talent of the Altos de Chavon pupils. The show celebrates the yin and yang of black and white, the excitement that comes with the interplay of these polar opposites.  It explores the harmony and similarity of the presence of all color and the absence of all color. As always the concepts the students develop around this theme will display intellect as well as sensual aspects of design.
The show marks the beginning of careers that will take these twelve beginning fashion designers far. For the last seven months they have dedicated themselves to their designs, from idea to finished garment. Now, tempered by their studies, they emerge as designers who can command respect on the runway.
Last year's graduating class at the "Estilo 2009" fashion show
If you've attended any of The School's past shows, you know that they're entertaining and full of wonderful creative energy. This year's event will be held at 8:00 PM and will be followed by a reception where you'll have a chance to meet the student designers. For each RD$3,000 donation you will receive a reserved seat at the show. Your contribution will go a long way toward covering the tuition and lodging cost for some of the school's talented future designers, students of limited means but unlimited ability.
The show will begin at 8pm, but arrive early to get a good seat!
Ticket prices:
General Entrance: RD$700
VIP: RD$3000
To purchase your tickets please call: 809 523 8011 ext 230 or go to the school administration office, which is above the El Mercadito store in Altos de Chavon.