This post is also available in: Spanish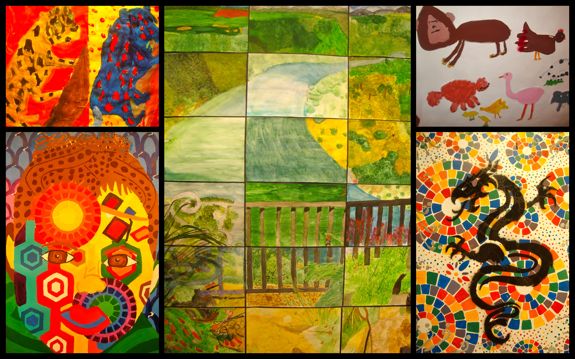 On Wednesday the 2nd of June the Abraham Lincoln School proudly opened it's annual art exhibit of the pupil's work at the Altos de Chavon art gallery, in this post I bring you my numerous photos of the childrens very impressive art work!
This art exhibit comprised of work by all the pupil's in the Abraham Lincoln School from grades 1 through 12 and even the pre-kinder and kinder classes.
There was a special 3D room, where with 3D glasses all the paintings were in 3D – this was amazing, the paintings were so beautiful AND it was so interesting to see them in 3D. According to upper school art teacher, Mr Adams it's relatively easy to create a 3D effect using color theory, as some colors 'jump' out while others go back.
Here are my photos of most of the pieces of art on display:
To read more about the Abraham Lincoln School, click on the links below:
Pupils of the Abraham Lincoln School help raise awareness and money for HAITI
A group of Abraham Lincoln pupils compete in the Maths Olympics!
12th Grade pupils of the Abraham Lincoln School spread Christmas Cheer!
The teachers of the Abraham Lincoln School celebrate Christmas at Shish Kebab!
Santa Claus visits the Abraham Lincoln School!
The Lincoln Lions – the football battle of the year in aid of the Orfanato
The Miracle Child – the perfect show to welcome December! By Priscilla Baez
Electric Disorder – Alexandra Varacalli's 17th birthday party!
The pupil's of the Abraham Lincoln School present 'A Miracle Child' – photos by Haydee Elizabeth Baez
The Lincoln Lions beat the Saint Johns Tigers 5-1
12th grade Abraham Lincoln pupils start community service at the Hogar Del Niño
Silvana Tirado de Soto – La Madrina de Los Toros del Este
The governors of the Abraham Lincoln School welcome the new teachers
The Abraham Lincoln School Class of 2009 Graduation Ceremony
Inauguration of the Abraham Lincoln School's annual art exhibit
Abraham Lincoln School's West Side Story