This post is also available in: Spanish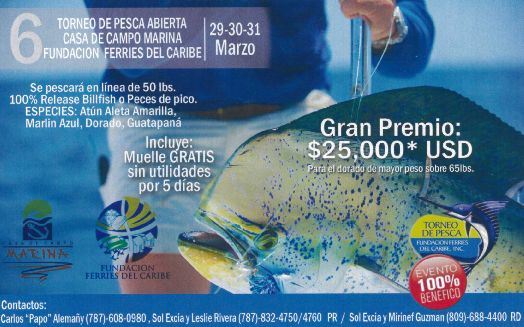 As a way of continuing their efforts to provide a better life for many families living on the Dominican-Haitian border, the "Ferries del Caribe" Foundation will be celebrating their 6th Annual "Open Fishing Tournament" at the Marina Casa de Campo from Thursday the 29th to Saturday the 31st of March.
The tournament taking place in the waters outside the Marina Casa de Campo, will not only bring together the best fishing boats and fishermen from both the Dominican Republic and Puerto Rico but will also raise money to benefit the "Ferries del Caribe Foundation", who over the last 6 years have used the monies raised with this event to build concrete houses for more than 1,500 people living in extreme poverty at Batey Isabela in the province of Barahona (near to the Dominican-Haitian border).
In fact, over the last five years, this event has enabled the construction of 199 concrete houses in Batey Isabela, the first community school, a computer center and a recreational area for all members of these families, as well as various health clinics – and this year's goal is to build new facilities and a specialist home for disabled children who need physical therapies.
So to encourage the community to support this wonderful cause, here we present the prizes – the tournament's main prize will be worth US$25,000, awarded to the team who catches the largest dorado fish, weighing over 65 pounds!
Additional prizes will be awarded in the following categories:
• Bronze (US$1,500),
• Silver (US$2,000 to US$3,000)
• Gold (US$3,001 to US$4,500)
• Platinum (US$5,000 +)
At the end of this 3-day fishing tournament, the participants and guests will enjoy an awards ceremony on Saturday evening the 31st of March, including a wonderful dinner with great music and dancing!
6th Annual Open Fishing Tournament by the Ferries del Caribe Foundation
When: Thursday 29th to Saturday March 31st
Where: Marina Casa de Campo
Cost: US$600 – registration will be held on Thursday 29th starting at 2pm
For more info: Please contact the foundation at (809) 688-4400
Hope to see you there!