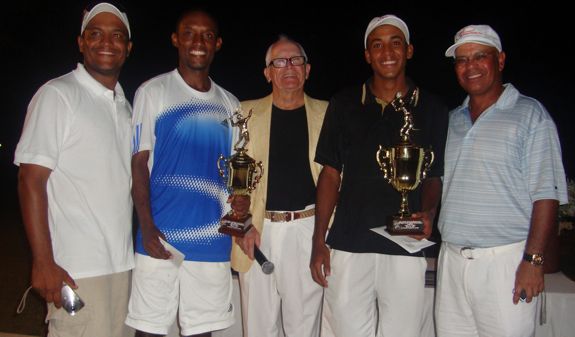 From Thursday the 11th through to Sunday the 14th of March, the 5th Annual McDaniel Pro's Tennis Tournament was held at the La Romana Country Club and the La Terraza Tennis.  The event is held every year to raise funds to pay for sponsorship of an increasing number of the Casa de Campo tennis club's ball boys.
The final, which was held on Sunday the 14th at 4pm at the La Romana Country Club was VERY exciting and was played out between Francisco Conception from LRCC and Pedro Nolasco, the rising star from La Terraza. After a fierce battle the match was finally won by Pedro – to read more about the final and see our photos, click here.
Following the match, a prize giving ceremony was held at the La Romana Country Club, when Rick McDaniel, the founder of the tournament awarded the trophies and prize money to the winners.
In total this year the tournament raised 1.2 million pesos from 67 generous sponsors – distributed among the winners and participants of the tournament, used to pay for the scholarships of the balls boys and starting from this year to pay for English classes for the ball boys and the teaching pros.
The McDaniel tennis tournament now sponsors a total of 16 ball boys and 1 honorary ball girl – at a cost of RD$25,000 per child per year. Every year the tournament has been attracting more and more sponsors so that every year they are able to offer sponsorships to 4 more children, we hope that the scheme will continue to grow so that it may help even more children! Thank you to everyone who made a contribution and sponsored this tournament!
Here is a photo of the lucky 16 ball boys and 1 ball girl!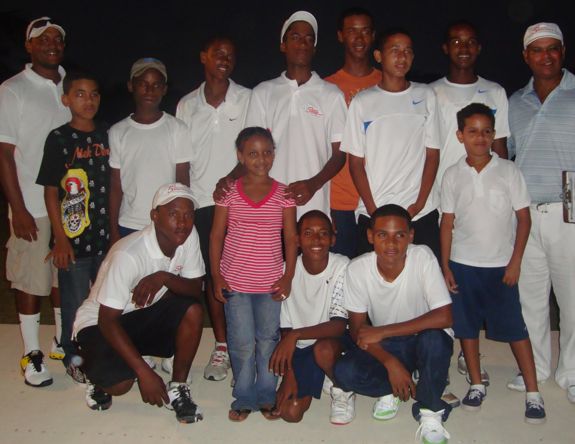 The sponsorship money is also used to reward the players of the tournament, as follows:
• 1st round players: RD$6,000
• 2nd round players: RD$8,000
• 3rd round players: RD$11,000
• 4th round players: RD$16,000
• Runner up (Fransisco Concepcion): RD$28,000
• Winner (Pedro Nolasco): RD$38,000
and here are my photos of the prize giving: