This post is also available in: Spanish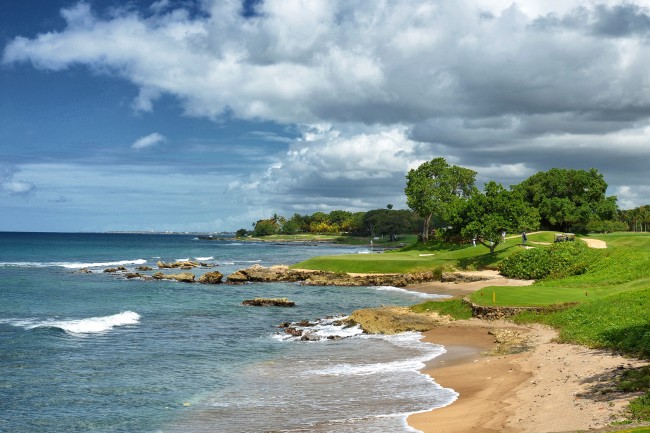 Top 100 golf courses of the world (www.top100golfcourses.co.uk) has come out with its yearly list of their Top 100 golf courses – and guess who's got #1 in the Caribbean?
That's right, folks! Our near and dear Pete-Dye-designed golf course, the Teeth of the Dog, has been ranked number one on Top 100 Golf Courses of the World's list of Caribbean golf courses and #52 in the world!
"There's one thing at Casa de Campo with a bark as well as a bite, and that's Dye's Teeth of the Dog."

— Top 100 Golf Courses in the World, 2014 Rankings
So yeah! Pop the party poppers, play the music, light the lights, this is a great honor an- wait, what's that?
"The Dominican Republic is now a major golf destination. Teeth of the Dog started it all back in 1971. The earliest international masterpiece by Pete Dye, it's been periodically rebuilt and updated by Pete Dye following repeated hurricane damage. The routing is stunning, a clockwise front 9, counterclockwise back 9, with seven holes hunkered down in the ocean, no more than 20 feet above the surf. The sea is on the left on holes five through eight, on the right on holes 15 through 17. Every hole is unique and scenic."

— Golf Digest, 2014 Rankings, 100 Best Golf Courses in the World
…Well, wow. I mean, that's flattering, but, hey, it's like an honorary mention, right? I mean, with a huge magazine like Golf Dige- Oh, Teeth of the Dog is #85? The eighty-fifth best golf course in the world? According to one of the world's largest golf publications?
Pop even more party poppers! Light more lights! Let's celebrate!
OK, in all seriousness, both of these rankings are a huge honor for the Teeth of the Dog, so, from all of us here at Casa de Campo Living, we'd like to offer our warmest congratulations to Casa de Campo and, of course, to master designer Pete Dye.
I mean, look at that. Who couldn't love it?