This post is also available in: Spanish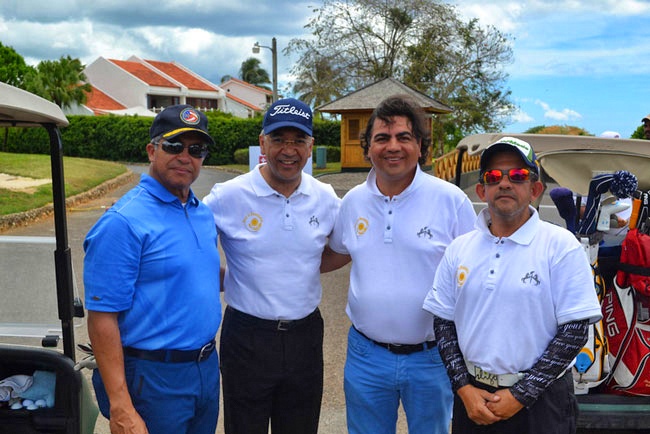 The 1st annual "Race to Kazakhstan" golf tournament took place in Casa de Campo last week from the 15th to the 18th of April, with the principal event played on Casa de Campo's most famous golf course, the Teeth of the Dog. 
Teeing off around the Teeth of the Dog golf course on a beautiful bright and sunny day, the competitors of the "Race to Kazakhstan" golf tournament enjoyed a friendly, yet slightly competitive game on the Caribbean's #1 golf course. At the end of the afternoon, Vito Monte & Bruno Ferrara were named the net champions with runners-up Modesta Morel & Patricia Ramos, followed by Martine & Boris Ballay, while the gross champions were Luis Escolastico & Romain Barbey.
This worldwide golf tournament, which will also be played across Europe and Kazakhstan in the coming months was organized by the Honorary Consul of the Republic of Kazakhstan in Dominican Republic, Attilio Perna and Honorary Consul of Dominican Republic in Republic of Kazakhstan, Anuarbek Argingazin together with the Golf Federation of Kazakhstan and specifically with Konstantin Lifanov.
Taking part in the tournament as well as the surrounding events and activities, which included golf clinics, as well as dinners and cocktails hosted at private Casa de Campo villas throughout the resort, was Mr. Attilio Perna himself, as well as many members of the Casa de Campo community and special guests from Kazakhstan.
The aim of the event was to familiarize guests with the culture and business of Kazakhstan, which in addition to being the world's 9th largest country, also has an abundant supply of accessible mineral and fossil fuel resources. Development of petroleum, natural gas, and mineral extraction has attracted most of the over $40 billion in foreign investment in Kazakhstan since 1993 and accounts for some 57% of the nation's industrial output (or approximately 13% of gross domestic product). According to some estimates, Kazakhstan has the second largest uranium, chromium, lead, and zinc reserves, the third largest manganese reserves, the fifth largest copper reserves, and ranks in the top ten for coal, iron, and gold. It is also an exporter of diamonds. Perhaps most significant for economic development, Kazakhstan also currently has the 11th largest proven reserves of both petroleum and natural gas.
Following the opening week in Casa de Campo, the golf tournament "Race to Kazakhstan" will also take place in Italy, Switzerland and Portugal from May to June, with a closing ceremony in Almaty, Kazakhstan in the first week of October. 
The following collection of photos were taken during the "Race to Kazakhstan" golf tournament on the Teeth of the Dog in Casa de Campo: