This post is also available in: Spanish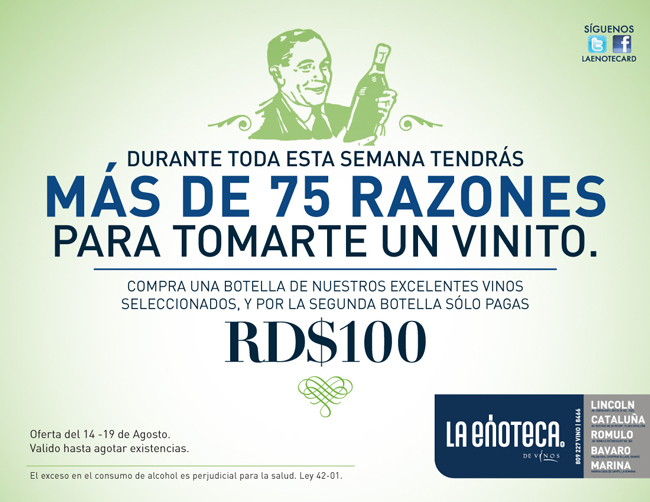 From  Tuesday the 14th until Sunday the 19th of August 2012 – all of the La Enoteca wine and liquor stores across the country (including the one in the Marina Casa de Campo) have a super special offer – buy 1 bottle of wine and get the 2nd for just RD$100 (less than US$3)!
This super-dooper offer, does not apply to all wines on sale at La Enoteca, but there is a rather long list of 75 wines for you to choose from – so you'll be sure to find something you like!
Hurry! Last time La Enoteca hosted this offer we heard reports of wines being SOLD OUT as Casa de Campo wine enthusiasts really took advantage of the offer to restock their wine cellars, and with such a great deal – why not??
Remember La Enoteca in the Marina Casa de Campo offers FREE delivery to all Casa de Campo villas – so just give them a call now (809 523-2343) to take advantage of this super offer!
LA ENOTECA – the wine and liquor specialists


Plaza Portofino #14, Marina Casa de Campo


Tel: (809) 523-2343


Open Hours
Sunday – Thursday: 10am – 10pm
Friday – Saturday: 10am – 12pm

Click here to read more about La Enoteca in the Marina Casa de Campo!