This post is also available in: Spanish
Last Saturday May 24th, the Azimut Café in collaboration with SILGON and Casa de Campo Living hosted yet another charming Sunset Jazz Night, this time in honor of all the fantastic mothers of the Casa de Campo community.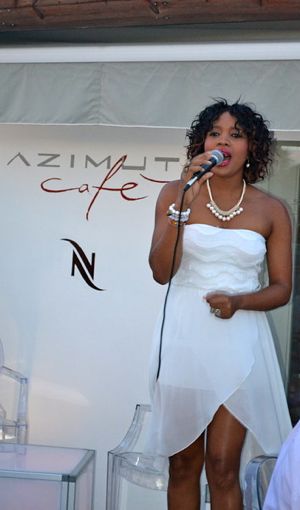 Taking place the evening before we celebrated Mother's Day in the Dominican Republic, Saturday evening, during a spectacular sunset in the Marina Casa de Campo was the perfect opportunity to raise our glasses in thanks to those special women who gave us life… and of course spend time with fellow members of our Casa de Campo community.
Once again sponsored by our good friends Chivas Regal 18, the gentlemen enjoyed whiskey on the rocks, while the ladies were treated to a special tropical orange-colored cocktail with aperol and prosecco, as well as a sweet treat of polvorones (a delicious Dominican cookie).
Meanwhile filling the air with soothing jazz was Carlos Marcelo and his band with Johanny Justo on the lead vocals, who dressed in white performed on the deck of the Azimut Café.
The weather was beautiful, the atmosphere relaxed and fun, and the music excellent. Congratulations to the evenings hosts, Mauro Caslini and Alice Caslini de Moriconi for treating us to yet another fantastic evening.
We can look forward to the next Sunset Jazz Night at the Azimut Café on Friday August 15th, the evening before we celebrate the Family Weekend For Life by the Fundación MIR.
The following collection of photos were taken during the Sunset Jazz Night at the Azimut Café in the Marina Casa de Campo on Saturday May 24th, 2014: