This post is also available in: Spanish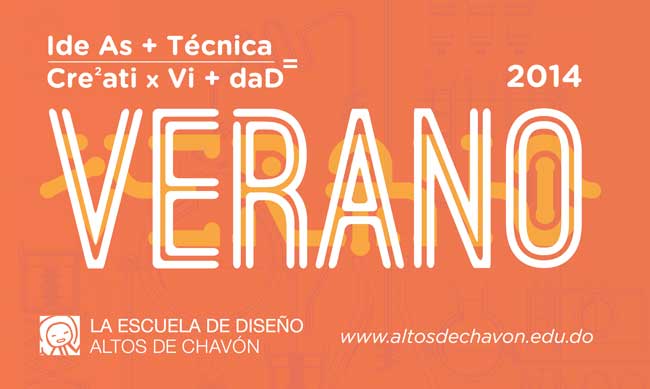 This summer the Altos de Chavón School of Design is offering more art and design classes than ever before, with options for children, teens and adults, as well as "masterclasses" for those with prior experience in their chosen field of study.
Each program varies according to the audience it is intended for, but all offer a common interest – develop and exploration of artistic skills!
All courses will be held throughout the months of July and August, with some taking place at the School's campus here in Altos de Chavón in Casa de Campo, while others will be held at their campus in Santo Domingo.
The programs on offer are as follows:
Verano Kids

This program is designed for small children aged between 4 and 12 years old. They will develop and practice their artistic skills using imagination and creativity. There will also be field trips to museums and art galleries, as well as visits from artists and designers.

This program consists of four weeks of different activities:

Week 1: July 7th to 11th "Exploring design elements in nature"
During this week the children will learn about the basics of design: lines, dots, colors, textures, etc. Conduct studies of nature producing drawings, paintings, sculptures, as well as participate in art music therapy.

Week 2: July 14th to 18th, "Creating my own museum"
Going to a variety of museums and art galleries in Santo Domingo, the children will develop the ability to appreciate, analyse and interpret artistic works. They will also learn about the history of art, and guest artists will visit the school.

Week 3: July 21th to 25th, "City of small architects"
The little ones will become small architects! They will analyze the architectural structures of the city of Santo Domingo. After this analysis, they will build architectural structures using materials such as wire, cardboard, metals and simultaneously apply the principles of design.

Age: From 4 to 12 years old

Location: Campus of Santo Domingo

Price:

Two weeks, RD$ 10,000
Four weeks, RD$ 18,000

Schedule: Monday to Friday, 8:00am – 1:00pm

Phone: (809) 563-2802

Click on the image below for more info: 
Verano Teens

Verano Chavón Teens 2014 offers teenagers two weeks exploring the basics of drawing, two-dimensional design and a broad view of the various areas of art such as Fashion Design, Graphic Design & Advertising, Interior Design & Architecture Photography. They will also receive workshops with artists specialized in different areas.

The different course options are as follows:

Camp Photography, July 7th-18th
Camp Fashion Design, July 7th-18th
Camp Design and Architecture, July 21th- 1st August
Camp Graphic Design & Publicity, July 21th-1st August

Age group: 14- 17 years old.

Place: Campus Santo Domingo

Cost: RD$ 10,000 (per course)

Schedule: Mondays to Fridays 2:30 pm – 6:00 pm

Tel. (809) 563-2802

Click on the image below for more info: 
Verano Internacional

Every year, during the months of July and August, the Altos de Chavón School of Design celebrates its "Verano Internacional" art and design courses, offering intensive short courses in the field of Design, Photography, Advertising, Illustration, Interior Design, Fashion Design, Production Film, Screenplay, painting, among others.

There are a variety of course options between the 21st of July and the 29th of August, please click on the image below to see them all. 

Dates: 21st of July and the 29th of August

Note: The price and time depend according to the course – click on above image.

Place: Altos de Chavón

Tel: (809) 563-2802
Pre-College Program: Explore art, design and culture

Designed for students between 14 and 17 years old with an educational and recreational program that strengthens the learning, exploration and curiosity. These students will also participate in visits to museums, galleries and other institutions that provide cultural experiences and knowledge.

Students can select one of three areas of interest: fashion design, photography and graphic design.

Dates: June 30th – July 18th

Age range: 14 to 17 years old

Place: Altos de Chavón

Price: US$4,500 (includes all course materials, accommodations, 3 meals and 1 snack per day, transportation)

Schedule: Full time

Phone: (809) 563-2802

Click on the image below for more information: 
Master Classes

Lectures and workshops offered by renowned artists and design professionals. Students will be able to work alongside these artists, to benefit from a real experience. Because of the intensity, students will leave with new skills that apply to their studies and careers.

The School of Design Altos de Chavón offers two masters for the summer, these are design for Brand Strategy and Fashion Illustration.

Dates: August 18th to 22th

Price: US$500 everyone

Click on the image below for more information: 

You can get more information by contacting the Altos de Chavón School of Design at:

(809) 563-2802 (Santo Domingo) / (809) 523-8011