This post is also available in: Spanish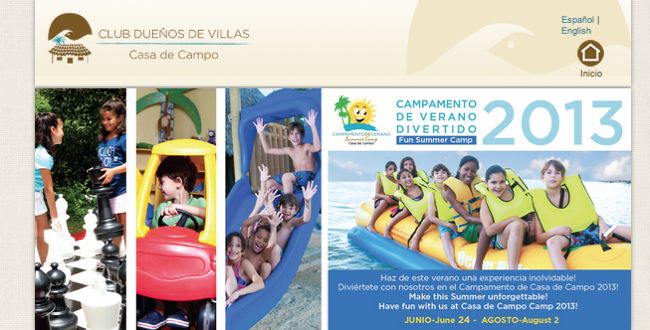 Silgon Inc. has just launched a new website for the Casa de Campo Villa Owners Club; www.villaownersclub.com.do, an informative website that focusses on the different services available to Casa de Campo villa owners.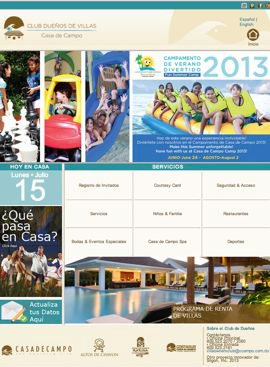 Among the services that can be seen on the site you will find: Casa de Campo Spa services, sports facilities, restaurants, weddings and events, among others.
The new website allows Casa de Campo villa owners to update their data online and make request for "courtesy cards", as well as download Costasur security forms for organizing guest access to the Casa de Campo resort.
Available in Spanish and English, this site has an extensive menu of services in the middle of it, while highlighted at the top, are activities and special announcements, which will be updated regularly.
The site was designed by Xochitl Cordero, social coordinator of the Casa de Campo Villa Owners Club.
"Silgon is a young and creative company with extensive experience in web development. Their constant consulting, diligence and personal service ensured that this project progressed optimally from the initial conception to the final delivery.

I would definitely recommend their excellent services.

 Silgon – thanks for making this possible!

— Xochitl Cordero, Casa de Campo coordinator of Villa Owner Club. 
Silgon Inc. is creator of the local guide TODO Casa de Campo, CasaLife and INMORTALES magazines, as well as popular Casa de Campo community website www.casadecampoliving.com
About  Silgon
Silgon Inc. is a modern media company based in Casa de Campo – the Dominican Republic's most affluent community.

Also a web development company, Silgon Inc, creates and maintains websites for some of the Dominican Republic's most successful companies. Not only do we work for the Casa de Campo community, we are part of the community. If you want to reach the people of Casa de Campo, we have no rival.

To know more about Silgon Inc. click here!