This post is also available in: Spanish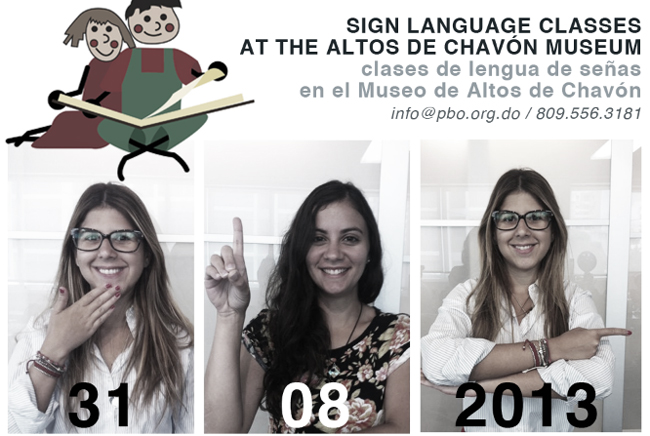 This Saturday August 31st, the Hogar del Niño will start Sign Language classes at the Altos de Chavón museum with one of the Dominican Republic's leading sign language experts – Sonia Encarnación.
These classes are part of the Hogar del Niño School for the Deaf: The Muse Seek Project, which aims to promote social awareness through the creation of artistic activities in partnership with the Music and Deaf society (UK) for the Deaf community of the Dominican Republic.
The Muse Seek Project's idea is to merge both worlds, the hearing community and the Deaf community. This movement has many levels: The First Music Program for the Deaf in the Dominican Republic, Sign Language Classes, The 3 Months Performance (in which Maria Batlle founder of the project is living as a person who cannot talk nor hear – www.themuseseekproject.blogspot.com) and access guides for businesses and companies.
Classes Schedule

Dates: Saturday August 31st – Saturday October 5th

Saturday August 31st: 3pm – 5pm


Wednesday September 4th: 5:30pm – 6:30pm


Saturday September 7th: 3pm – 5pm


Wednesday September 11th: 5:30pm – 6:30pm


Saturday September 14th: 3pm – 5pm


Wednesday September 18th: 5:30pm – 6:30pm


Saturday September 21st: 3pm – 5pm


Wednesday September 25th: 5:30pm – 6:30pm


Saturday September 28th: 3pm – 5pm

Wednesday October 2nd: 5:30pm – 6:30pm

Saturday October 5th: 3pm – 5pm

Place: Altos de Chavón Regional Archaeological Museum, Altos de Chavón

Price: US$100 per person (includes all classes)

Contact: (809) 556-3181, [email protected]