This post is also available in: Spanish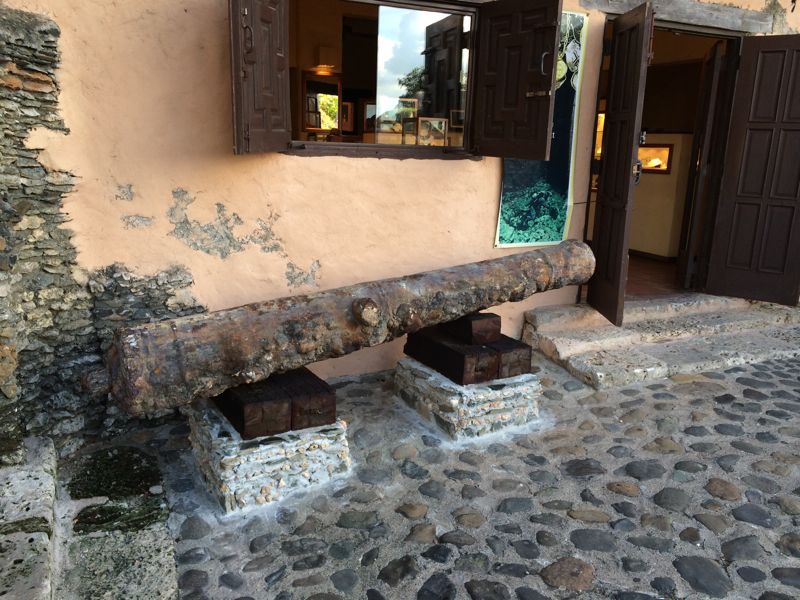 There's a shipwreck in Altos de Chavon! Well not quiet, but there is an 8 1/2 ft iron cannon!
This mysterious cannon is from an unknown shipwreck somewhere off the southeast coast of the Dominican Republic and it's current home is outside of Everett's Designs in Altos de Chavon.
So where did it come from and how did it come to be in Altos de Chavon?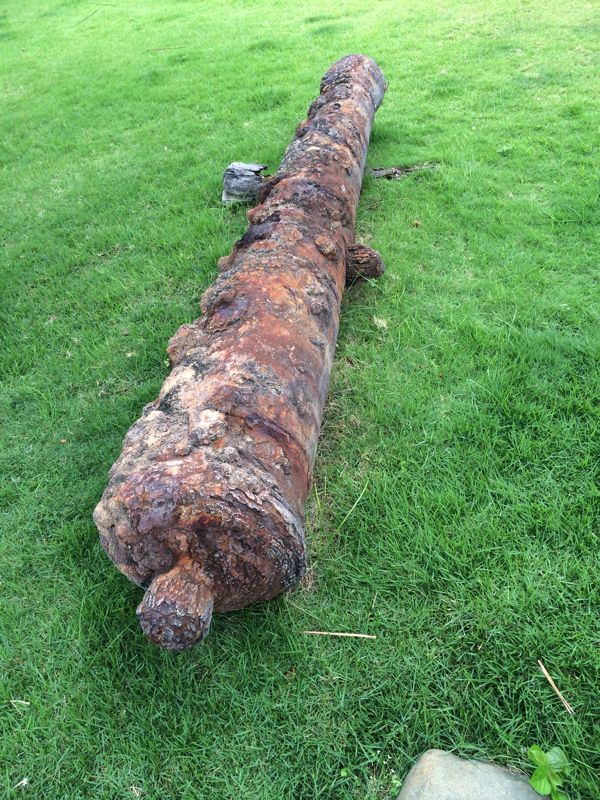 Well according to Bill Everett, who first opened Everett Designs in Altos de Chavon in 1979 , the cannon "was found on a beach on the east coast south of Juanillo probably after some storms about 15 years ago. It has been sitting in a field since then waiting for a home." Which is how he came to have it.
Although Bill is waiting for the director of the Dominican Underwater Archaeological Commission to take a look at it so that he can find out more about it, he does think that it once fired a 12 pound cannon ball and probably weighs 3000 lbs! He also believes that it is a Spanish cannon from the 1700s – as soon as we know more, we will let you know!
And while it may seem like an odd addition to a fine jewelry store, Bill Everett has always had an interest in shipwrecks… And in fact one of his most popular collections is the 'Treasure Coins' created from rare 17th and 18th century Spanish silver and gold coins salvaged from famous shipwrecks.

Every original hand stamped coin is mounted by Everett in 18K gold or sterling silver and accompanied by a certificate of authenticity. Each extraordinary piece both captures the history of the era and the artistry and craftsmanship of Everett Designs.
"I think it is great to have the cannon back in service guarding Everett Designs and Altos de Chavon," Bill Everett told Casa de Campo Living, adding with a smile, "who says, the cannons don't thunder, there's nothin' to plunder!"
Everett Designs jewellery was founded by William and Rosemary Everett in 1979, that's more than 30 years experience creating jewellery for the Casa de Campo community and visitors. 30 years in which Everett Designs has grown, developed and adapted to ever-changing fashion trends and continues to produce timeless, classical pieces of jewellery, every woman will fall in love with.