This post is also available in: Spanish

40 serigraphs produced by the deceased master, Candido Bidó, titled "Mi Familia" are on sale in aid of the Fundación Rio Salao. Each one is serialed and signed by the artist. Donated by the director of the Escuela de Bellas Artes de La Roman, Ricardo Bello, to benefit the Rio Salao project in La Romana.
Rio Salao, La Romana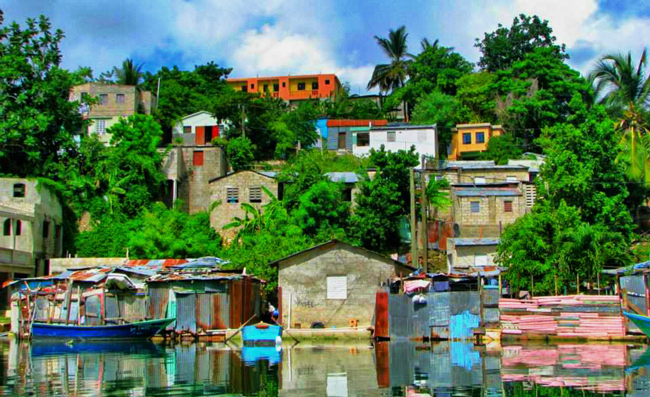 The neighborhood of Rio Salao in La Romana is the cluster of simple cement and wooden houses nestled haphazardly along the riverbank (look right as your cross the bridge entering La Romana from Casa de Campo). "Rio Salao: Misión Posible" being led by Ricardo Bello alongside other prominent leaders of the La Romana community have taken on this "mission possible" to not only make the area a nicer and safer place to live, but also to transform it into a tourist attraction.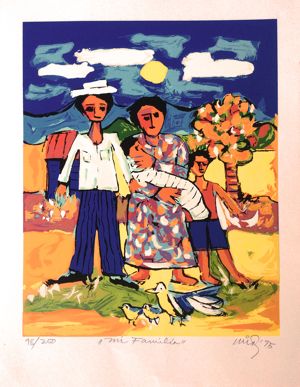 The serigraphs, measuring of 14 x 18 inches are on sale for just RD $5,000 each, making this your opportunity to own a piece of Dominican history, a creation by one of the Dominican Republic's most famous artists. In his paintings he washes away any trace of technology and portrays Dominicans as connected with the nature around them, he always said he found inspiration in his people so his pieces were always in some sort a representation of Dominican culture.
Since we visited the project back in September 2013, and interviewed Ricardo Bello (click here), the project has been working hard and going full steam ahead with the transformation. In addition to having already changed the face of the neighborhood by painting the facade of numerous housing with Caribbean colors, the foundation has also been organizing various activities with the objective to educate and entertain residents of the neighborhood, as well as help them learn new skills, such as jewelry making workshops, painting classes and much more.
 Get your Candido Bidó serigraph now

Place: Fundación Río Salao on the Calle Duarte, esq. Restauración, La Romana

Cost of serigraphs: RD$5,000 each

Opening times: From Monday to Friday 10:00 am – 5:00 pm and Saturday from 10:00 am – 12:00pm

Tel.: (829) 343-4440

Email: [email protected]
A las Madres de Rio Salao

Inaugurated on Friday May 23rd, an art exhibit 'A las Madres de Rio Salao' is currently on show in Rio Salao. This beautiful exhibition of varied artworks by local La Romana artists can be found at the headquarters of the Fundacion Rio Salao, Calle Duarte, esq. Restauración, in the heart of La Romana.

The exhibit is open until May 31st.

For directions or more information please contact Ricardo Bello (contact above).