This post is also available in: Spanish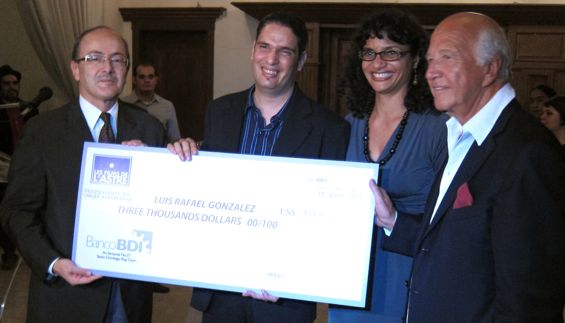 Last Wednesday the 15th of June, Casa de Campo villa owner, film director and president of 'Les Films De L'Astre' hosted a prize-giving ceremony for their second annual screen-play writing contest, sponsored by the French Embassy in honor of film critic the late Arturo Rodriguez Fernandez.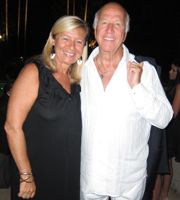 The presentation was held in the French Embassy in the Dominican Republic's capital city, Santo Domingo with the presence of the French Ambassador for the Dominican Republic, Roland Dubertrand, as well as, well known Casa de Campo community members Sergio Gobbi and his wife, Corinne, Diego Gonzalez, Leo Proaño and architect of the Marina Casa de Campo, Gianfranco Fini, who were all involved with the judging and organisation of the contest.
More than 100 hopeful Dominicans entered the screen-play writing contest, which called for screen-plays of up to 30 pages, which had to have some connection to France and it was Luis Rafael González who claimed the first prize with his screen-play entitled "Dioses sin Crepúsculos", which in English means 'Gods without twilight.' During the ceremony Gonzalez was awarded with his prize – US$3,000!
The other successful finalists were: Formerio Rodríguez (La Negrita y el Gringo), Alejandro Andújar (El Hombre que Cuida), Margarita Cota (El Rinoceronte Rosa), Raúl Eduardo Yunén (Frecuencia Modulada), Julio César Joaquín Collado (Sicario Marica) y Julio Grisanty (Melodía de Salvación).
Congratulations to Luis!
Here are my photos from the award ceremony and cocktail:
On a side note, Casa de Campo Living did in fact enter a screen-play into this contest, but sadly we didn't win – watch this space we fully intend to win next year!
This article was written by Rebecca Hughes, editor of Casa de Campo Living and Casa de Campo's entertainment specialist!

Rebecca Hughes, Editorial and Events Marketing
[email protected]
TEL: 809-523-2045   CEL: 809-949-8906 (evenings and weekends)
BBM: 230DA5D1
Altos de Chavón, Casa de Campo

This article was produced exclusively for www.casadecampoliving.com