This post is also available in: Spanish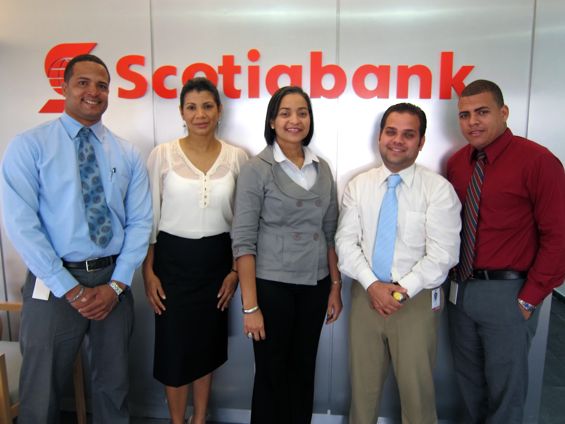 Welcome Scotiabank! This week, Scotiabank, which has been open in the Dominican Republic since 1920 opened it's first branch within the Casa de Campo resort at the Marina Casa de Campo. 
The new branch is located on the Marina Casa de Campo's main shopping boulevard the 'Calle Barlovento' near to Amadeus Beauty Salon, the Marina Casa de Campo administration offices and the Casa de Campo yacht club.

Within the new branch being ran by Carolina Avila, under the Management of Jean-Pierre Santoni, you will find a smiling super friendly team of workers all more than happy to help you with your everyday banking needs as well as more comprehensive services such as mortgages. The branch will also offer, a very special 25 year USD mortgages with an excellent interest rate – perfect for buying a Casa de Campo villa, apartment or renovating the one you have!
Here are a few photos of the team hard at work!
Welcome Scotiabank we are thrilled to have you!
Scotiabank
Address: #5 Calle Barlovento, Marina Casa de Campo
Tel: 809-523-7080.
Open: weekdays 9am-5pm and Saturdays 9am-1pm.
NOTE: Scotiabank is one of the sponsors of the HOEDOWN 2011 (Fiesta Americana), which is taking place at the Casa de Campo FLAMBOYAN conference center this Saturday the 2nd of July from 4pm – so we look forward to seeing you there! To read more about the HOEDOWN 2011, click here.
This article was written by Rebecca Hughes, editor of Casa de Campo Living and Casa de Campo's entertainment specialist!

Rebecca Hughes, Editorial and Events Marketing
[email protected]
TEL: 809-523-2045   CEL: 809-949-8906 (evenings and weekends)
BBM: 230DA5D1
Altos de Chavón, Casa de Campo

This article was produced exclusively for www.casadecampoliving.com