This post is also available in: Spanish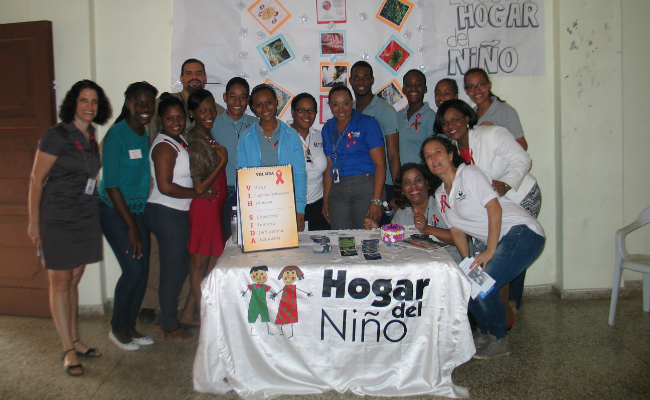 Last Tuesday, December 1st, on the occasion of World AIDS Day, the Clínica de Familia La Romana along with the Módulo Anexo Materno Infantil (Annex Module Mother and Child) (MAMI) celebrated for its 3rd consecutive year the organization's traditional scientific and artistic exhibition. It was held in the Parish Hall of the Church Sagrado Corazón de Jesús in La Romana, with the collaboration of the Provincial Health Directorate of La Romana and the Ministry of Education.
In order to educate and involve youth in the knowledge and prevention of HIV and AIDS, the organizers of this activity focused on the participation of high school students from various schools in La Romana.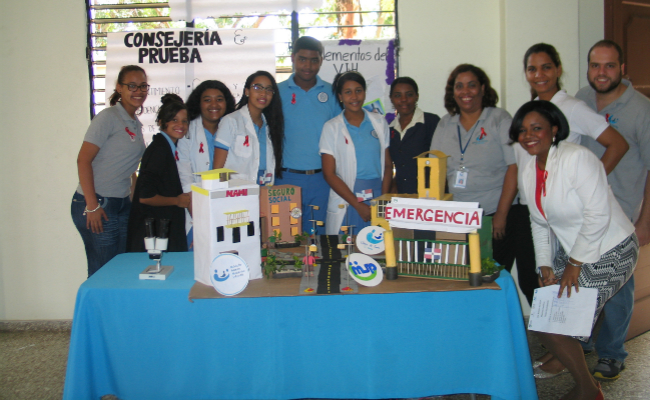 The event began in the morning with several scientific exhibitions on HIV and AIDS by the students of the Hogar del Niño, Colegio Bíblico Cristiano, Escuela Eugenio María de Hostos, Colegio Mi Hogar Cristiano and the Colegio Evangélico Shalom. Afterwards, Dr. Rosanna Matic from the Clínica de Familia moderated a discussion with visual support of videos and photographs in congruence with these issues and clarified the concerns of students.
The exhibition ended with the participation of a young group from MAMI from Batey Guerrero, who made use of the technique of forum theater to raise awareness among students and eliminate discrimination against people with HIV.
A jury, composed by Dr. Jael Silfa, Director of the Dr. Francisco A. Gonzalvo Hospital; Dr. Martin Polanco, Internist and Dr. Leonel Lerebours, Director of Research, both representatives of Clínica de Familia La Romana and Lic. Luz Messina Hidalgo, Director of MAMI, was formed to listen to different scientific presentations and reward the three best schools. The trophies and medals awarded in the scientific category were: Colegio Evangélico Shalom (1st place), Colegio Bíblico Cristiano (2nd place) and Hogar del Niño (3rd place).
In the afternoon, Mina Lozada Halpern, Executive Director of the Clínica de Familia La Romana, opened the Art Exhibition with welcoming words, while highlighting the excellent work done by all students. Then, the emcees kicked off the dramas performed by students from the Escuela Milagros Núñez, Colegio Evangélico Shalom, Lyceum Heriberto Payan and Colegio Eugenio María de Hostos.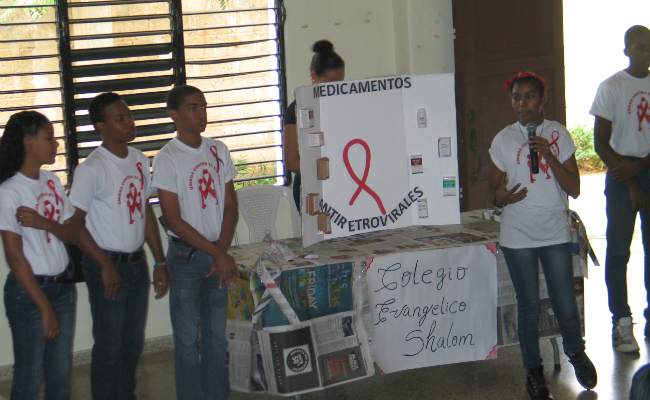 The afternoon jury was composed by Luz Mejia Messina y Honey from MAMI and Mr. Ricardo Bello, creator of the "Río Salao, Misión Posible" project. The winning schools were: Escuela Eugenio Maria de Hostos (1st place), Lyceum Heriberto Payan (2nd place) and the Colegio Evangélico Shalom (3rd place). All schools, both from the Scientific Exhibition and the Art Exhibition, received a certificate of participation.
The success of the 3rd Scientific and Artistic Exhibition was possible by the participation of the schools and the unconditional support of institutions such as the Provincial Directorate of Health, Agua el Edén and Almacenes Iberia.