This post is also available in: Spanish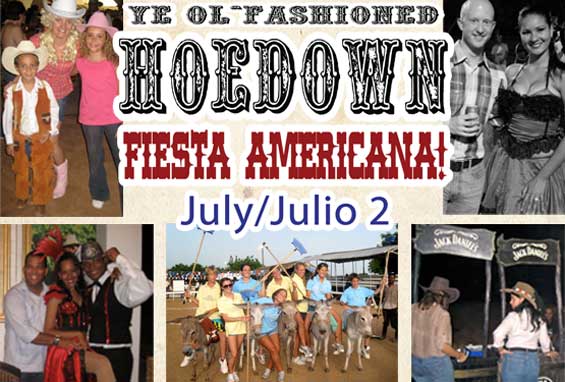 That's right cowboys and girls! 'The Hoedown' is back and will (hopefully) take place on Saturday the 2nd of July! (Información debajo en Español!)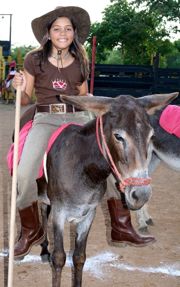 To celebrate the 4th of July weekend, Casa de Campo Living is organizing it's 2nd annual Hoedown on Saturday July the 2nd – a semi-traditional American party with vaqueros, donkey polo, line dancing, rodeo, BBQ, whiskey saloon, Casino and fair games! Yeeehaaaaa – it's time to start getting your COWBOY gear ready!
Last year, the HOEDOWN was a huge success, attended by more than 500 cowboys and girls, who spent the afternoon playing Donkey Polo, whilst their wild cowboy parents enjoyed the Jack Daniels Whiskey Saloon and La Aurora cigars. The evening's entertainment began with a country and western karaoke performance, by Tiffany and Daniela, raising stars in from the Casa de Campo community and continued with a live band and dancing, complimented by a troupe of dancing girls, who thrilled the crowd with a can-can show!
This year, the HOEDOWN 2011 looks set to be even bigger and better! This year we plan to include: a RODEO MECHANICAL BULL, a spectacular RODEO horseshow, COWBOY KARAOKE and other fun surprises!! Do NOT miss this event – SAVE THE DATE, Saturday July the 2nd!
More complete details coming soon, but here's a quick summary of what we are planning:
WHEN?
Saturday July the 2nd
(time to be confirmed)

WHERE?
The Dude Ranch, Casa de Campo

WHAT?
A Hoedown y'all!!!  All American fun and games with a LIVE 'country' band, the crowning of the King and Queen of the Hoedown, Whiskey Saloon, a Texas Holdem poker tournament in the Casino, sizzling meats on the BBQ, a Donkey Polo tournament, cowboy karaoke and a Rodeo Mechanical Bull! – FUN for ALL the FAMILY!

DRESS CODE:
WESTERN!  Start getting your best WESTERN outfit ready NOW! Come all – cow boys and cow girls, saloon girls, gunslingers, western sheriffs, heck you could even come as a horse!

SAVE THE DATE!! More details coming soon…
NOTE: Whilst the above is what we are PLANNING to do, we cannot promise that all of the above will actually happen – how the actual event shapes up will depend on the sponsors we are able to get and about a million other factors – as the event develops, we will update the website regularly (look for the 'HOEDOWN' on the top blue bar), to make sure you know exactly what to expect!
Remember the HOEDOWN 2010? Click here to remember the good times y'all!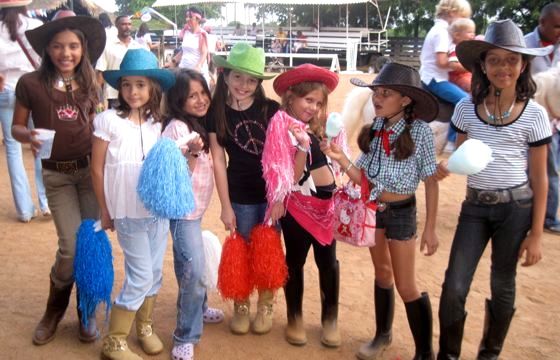 ESPAÑOL ——————————————————–
Para celebrar el fin de semana de 4 de julio, 'Casa de Campo Living' está organizando la segunda anual 'Hoedown' el sábado 2 de julio, una tradicional 'FIESTA AMERICANA' con cowboys and cowgirls, un torro mecánico, polo de burro, baile en línea, rodeo, BBQ, un salón de whiskey, casino y juegos de feria! Ven y disfrutar!! Mas información viene pronto…
DONDE?
El Dude Ranch, Casa de Campo

QUE?
FIESTA AMERICANA! Vaqueros, juegos de feria, un torro mecánico, polo de burro, musica en vivo, torneo de poker, BBQ y mucho mas – DIVERSION para TODO la FAMILIA!

DISFRACES:
OCCIDENTAL!!! Vaqueros, campesinos, occidental de alguacil, chica de gaucha, sombero de vaquero, jeans, pistoles (plasticas), botas occidentales, bigotes……

RESERVA LA FECHA!!! Mas informacion pronto….
Recuerde la Fiesta Americana? Haga click aqui para recordar los tiempos vaqueros!
Here are a few of our favorite photos from last year's event, to get you in the cowboy mood!
Aqui están algunas fotos del evento del año pasado: