This post is also available in: Spanish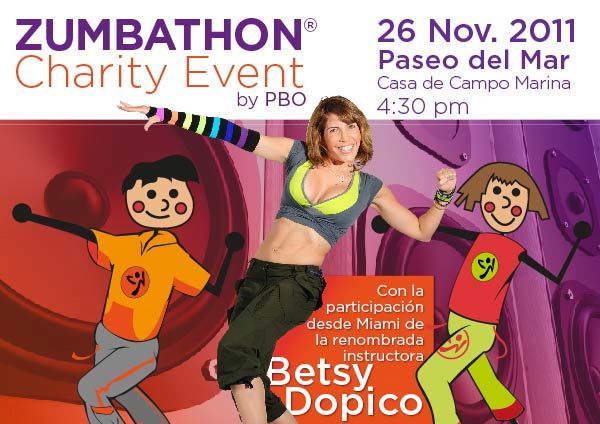 Are you ready for some high energy fun and dancing? Saturday the 26th of November is going to be a day filled with fun for Casa de Campo villa owners, visitors and guest of all ages – with the second annual "Joli-Day Beach" event taking place on Minitas beach from 10am, followed by Casa de Campo's first ever Zumbathon being held in aid of the Patronato Benefico Oriental, the umbrella charity for the Hogar del Niño, children's daycare center in La Romana.
The event, taking place in the Marina Casa de Campo on the Paseo del Mar will start at 4:30pm with the participation of both national and international Zumba instructors, including the famous Betsy Dopico from Miami!
These are the details:
Zumbathon event for the Hogar del Niño

When: Saturday November 26th, 4.30pm

Where: Paseo del Mar, Marina Casa de Campo

Contact: 809.556.3181 y 809.523.8901

E-mail: [email protected]

Cost: US$35
OH NO! 2 fun events happening on the same day! But don't panic – "Joli-day beach" starts at 10am, so for those of you wanting to enjoying both events, just go to Joli-Day beach first and head on over to the Marina afterwards! It's sure going to be a fun filled exciting day!
When: Saturday 26th of November

Time: 10am – 6pm

Where: Minitas Beach, Casa de Campo

Get your best bathing suits ready for a fun filled day with:

A Water Park, with water slides, water games and even a foam machine!
Family Olympics! Casa de Campo's family programs team invites family teams to compete for fantastic prizes in a variety of fun, silly and competitive beach olympics games!
Beach BBQ! Everyone loves a beach BBQ with mouthwatering ribs, burgers, hotdogs, salads, kebabs and more – enjoy your favorite foods buffet style without even having to get dressed!
Swimwear Fashion Show, sponsored by Caffé swimwear – we need models, so if you want to take part – CLICK HERE to find out more!