This post is also available in: Spanish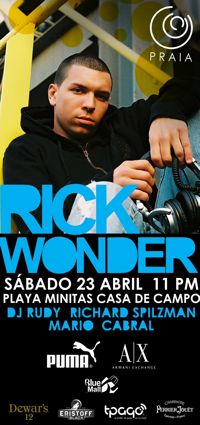 Since the first Praia beach party thrown for New Year's Eve 2009/2010, Praia's beach parties have become legendary – unmissable events that attract party goers of all ages and this year on Sábado Santo (the Saturday of 'Semana Santa' Holy week) Praia is planning on throwing yet another party on Playa Minitas!
The Sábado Santo beach party will take place on Saturday the 23rd of April, from 11pm on Minitas Beach, taking place directly after the 'Don Omar and Victor Manuelle' concert, as the 'Official After Party.' As has become customary the party will take place on the private beach area, behind the Beach Club by Le Cirque restaurant, with a stage for the DJ's suspended over the sea, and a wooden floor covering the beach area for sand free all-night boogying!
DJ Rick Wonder from New York along with DJ Rudy from Paris and Paria DJ's Richard Spilzman and Mario Cabral will be on the decks until sunrise!
Tickets are RD$2,000 per person including an all-night open bar!
Click here to confirm your attendance on their Facebook page.
To see our coverage of previous Praia beach parties on Playa Minitas, click on the links below:
New Years Eve 2010: Party at Playa Minitas
White Party by Praia at Playa Minitas – AWESOME!
Celebrating New Year's Eve 2009: partying with the sunrise at Playa Minitas
New Year's Eve 2009 at Playa Minitas – our photos!
New Year's Eve '09: Photos, photos, photos!