This post is also available in: Spanish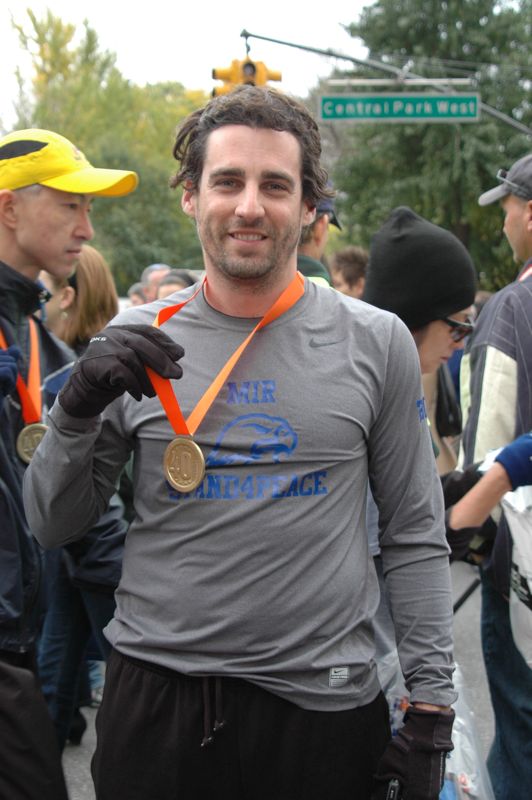 On November the 1st, a team of passionate Fundacion MIR supporters ran the New York marathon, to raise money for the Fundacion MIR's school for boys in La Romana.
The team have just announced that they raised $1800.20 – a fantastic sum and achievement but unfortunately just shy of their goal of $2000! The money  will be used to buy new chalk boards for the new classrooms at the Fundacion MIR school for boys in La Romana.
On the right is a photograph of the team captain – Dino La Capra, who ran the race in a total time of only 3:30:58 – very impressive! His results for the race are as follows:
Place: 5428
Gender Place: 4725
Age Place: 786
Official Time: 3:30:58
Minutes per Mile: 8:05 !!!!
What a fantastic achievement and for such an admirable cause!
The Fundacion MIR is a wonderful charity, which helps the women and children of La Romana and the Eastern region of the Dominican Republic to gain an education and with their medical facilities is fighting the battle against HIV and AIDS in the community.
Read more about the Fundacion MIR here:
Discovering the Fundacion MIR: La Clinica de Familia
Magical Splendor For Life – more than $200,000 raised!
Fundación MIR celebrates another successful 'Family Weekend for Life' in Casa de Campo
Ladies Luncheon and Fashion show – Saturday 4th April
The Sugar Open 2009 – Opening Cocktails at The Victory club
NineCircus Rocking Out for a Good Cause!
Halloween @ Onno's in aid of the Fundacion MIR
MIRMIA – the Fundacion MIR's latest charity event!
XIX Retiro Carismatico presented by the Fundacion MIR
A team of MIR supporters to run the NYC marathon!