This post is also available in: Spanish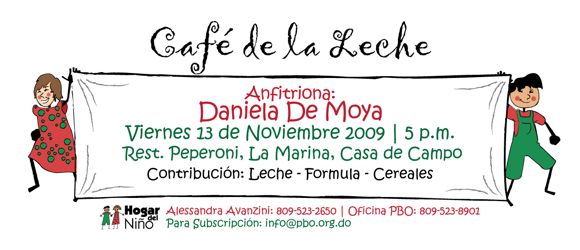 The monthly woman's get-together, that is the Cafe de La Leche, is being held tonight at the popular restaurant, Peperoni, in the Marina Casa de Campo.
The event starts as usual at 5pm, although in the Dominican Republic that usually means 5.30pm (at the earliest) – so if you're a punctual kind of person you have been warned!
This month's Cafe de La Leche, being hosted by Daniela de Moya will no doubt be spectacular – being held in the chic and sophisticated Peperoni restaurant – how can it not be?
The Cafe de La Leche is a monthly fund-raising event, held to benefit the Hogar del Niño, which all Casa de Campo women are invited  to attend in exchange for a donation of milk or cereals to be used to feed the babies in the Hogar del Niño's crib room.
For more information about the Cafe de La Leche, follow these links to read our reviews on every Cafe de La Leche for the last 6 months:
Cafe de La Leche – Oct 2009
Cafe de la Leche and Bazaar – Friday 04 of September 2009
Cygalle's Healing Spa hosts Cafe de La Leche and celebrates launch of new Hogar del Niño Website
Cafe de la Leche – June 2009
Cafe de la Leche – May 2009
Cafe de la Leche – April 2009
Cafe de La Leche Marzo 2009
For more information about the Hogar del Niño, follow these links to read all about it:
Discovering Hogar del Niño
Volunteering at the Hogar del Niño by Naomi Biden; Day 1
12th grade Abraham Lincoln pupils start community service at the Hogar Del Niño
Hogar del Niño Celebrates its first High School Graduation
12th Annual Hogar del Niño Weekend
House and Garden Tour by Hogar del Niño