This post is also available in: Spanish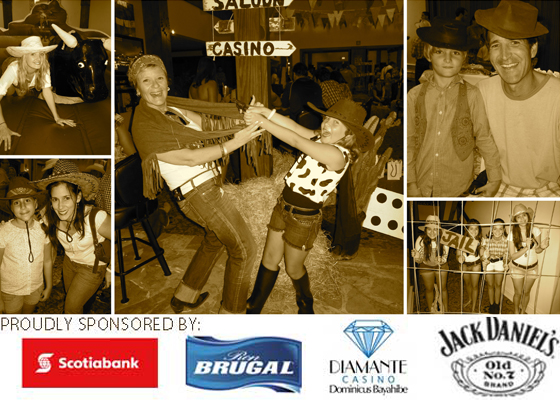 Yeeehhhaaaawwww! The 2nd annual Hoedown took place on Saturday the 2nd of July 2011 and was a success beyond everyone's wildest expectations! Here we remind you of a legendary party with more than 500 cowboys and cowgirls of all ages in their best Western gear, a rodeo bull, music, dancing, talent show, BBQ, casino and drinks……
CLICK HERE FOR OUR FAVORITE PHOTOS OF THE EVENT! 
Ron Brugal, are not only considered one of the best rum's in the Dominican Republic, but were also at the Hoedown 2011, providing the over 18's with rum cocktails, as well as sponsoring the 'Toro Loco' – undoubtedly the event's most popular attraction!
Bandits at the Jack Daniel's Saloon

The Jack Daniel's Saloon bar, sponsored of course by Jack Daniel's was fashioned out of bales of hay and a wooden facade for the bar – it wasn't the height of luxury but fitted in perfectly with the 'western' theme and with plenty of free Jack Daniel's being served on the rocks or mixed as a cocktail – it was certainly the popular watering hole of the event!
Casa de Campo Living in the news! 'Casa de Campo festeja la independencia de EUA'

The 'Hoedown 2011' made the national newspapers!
The Hoedown 2011 was such fun, that Casa de Campo villa owner, Ivonna Sosa shared her personal photos of the event and her family with us!