This post is also available in: Spanish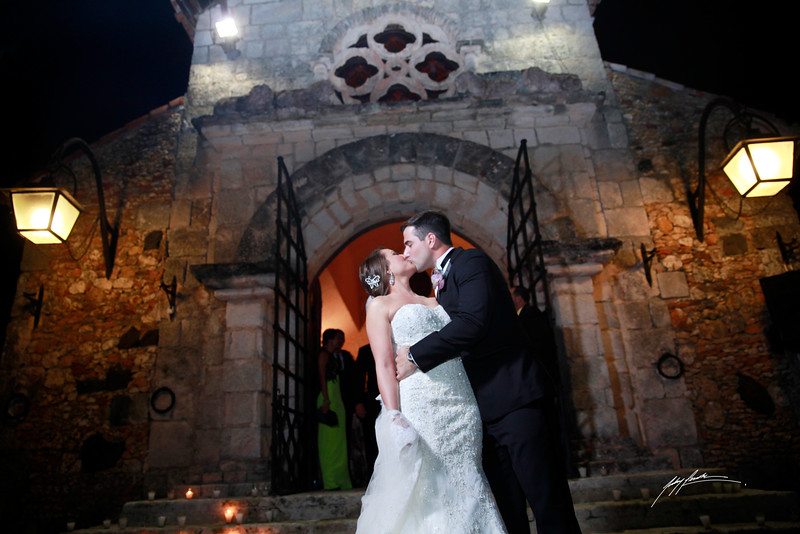 Inside the beautiful stone chapel of the St. Stanislaus Church in Altos de Chavon is where the beautiful and magical wedding of Rebeca Diep and Charlie Kondla took place, the perfect end to a beautiful love story. From friends to boyfriends, and then husband and wife!
The happy couple who have known each other since they were children, were good friends forever, until one day that changed…. One day they saw each other in a different light… they fell in love without realizing it and after that, the rest is history.
Luckily, we had the opportunity to interview Rebeca, so let's here all about it from the words of the beautiful bride.
​Tell us a little bit about you. 
I was born and raised in La Romana, Dominican Republic. I grew up in Casa de Campo along with my older brother Felipe, and my parents, Felipe and Belkys Diep. What means the most to me is my family. In fact, my parents are my inspiration. They have given me absolutely everything, including the wedding of my dreams, and have always supported my ambitions. I received my Bachelors Degree in Business Administration from Florida International University, and my Masters in Business Administration from NOVA Southeastern University. I ​am currently employed as a Human Resources Coordinator at the Office of Research and Economic Development at Florida International University, and I am proud to be back working at my Alma Mater.
Where and how did you meet?
Charlie and I have known each other since we were kids. My Aunt and his parents are very close friends, and we would often spend holidays with each other's family. When I first laid eyes on him, I was swept off my feet.  There were two problems though. First, we lived in different countries. Charlie lived in Miami, Florida, and I was in La Romana.  Needless to say, I would always look forward to holidays or summer vacations, as those were the times I would get to see him. Second, Charlie is three years older than I am, and he only saw me as a little girl when we were younger. Then there came a time when we were not so little anymore. I can remember it like it was yesterday. Charlie had graduated from Florida State University, and had just moved back to Miami to attend Law School. As I mentioned earlier, I was studying at Florida International University. One weekend our paths crossed at my cousin's first year birthday celebration. The moment I saw him, as cliché as it might sound, I felt butterflies in my stomach. He looked as handsome as I always remembered. The problem was that I was shy; luckily for me, Charlie doesn't have a shy bone in his body. To this day, Charlie still tells me how beautiful I looked that day, and how he first "noticed" me as a woman. He came right up to me said hi and gave me one of his famous "bear hugs". The rest shall we say is history. We lived happily ever after.
Why did you choose to do a Casa de Campo wedding at Altos de Chavón?
There was never another option. Altos de Chavon is part of my childhood. It's not just a beautiful place with breathtaking views and its iconic church, but it holds a sentimental place in my heart. It is where I had my First Communion and attended mass with my family. It is also a place I remember taking Charlie and his family when they came to visit us over the summer.
Tell us about your special day. Describe it for us!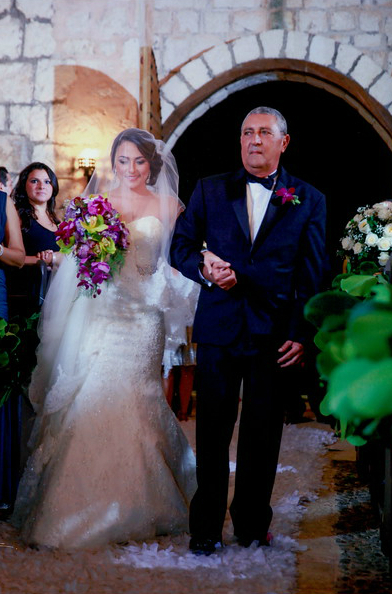 It is almost impossible to describe what you are going through on your wedding day.  Now matter how meticulously you plan or how many times you visualize the ceremony, nothing can prepare you for walking down the aisle. In fact, I would say it doesn't really hit you until the night is over. You are in full "go" mode. Luckily, I did not feel stressed at all thanks to my bridesmaids, my mother, and my mother-in-law. They each made every effort to ensure I had a very relaxing day.  This included unlimited mimosas, getting our hair and makeup done by Edward Saint-Hilaire, and some improvised dancing.
When the moment came to leave to the church, I was overcome with emotion.  I had some silly fears about falling while being walked down the aisle, or forgetting my vows, but the feeling that I felt most strongly was anticipation. I was looking forward to seeing the expression on Charlie's face when he first saw me in my wedding dress. When I walked down the aisle and I saw the smile on Charlie's face, I was filled with utter joy, and it washed away any fears of tripping or forgetting my lines. The ceremony was a thing of beauty, but the reception was a fairy tale come true. I cannot express what a magnificent job Grupo Tres did in bringing my vision to life. It truly was enchanting. We danced the whole night thanks to one of my favorite singers, the amazing Hector Acosta.  The night could not have ended on a better note without one more surprise from my parents with their Hora Loca that infused energy to an already hyped up crowd.
What was the most special moment?
If I had to pick a moment that stood out and there were many, but in having to choose one it would most definitely be our first dance. It was our first moment as husband and wife and Charlie took that moment to whisper in my ear his wedding vows. It brings a smile to my face every time I think back to that moment.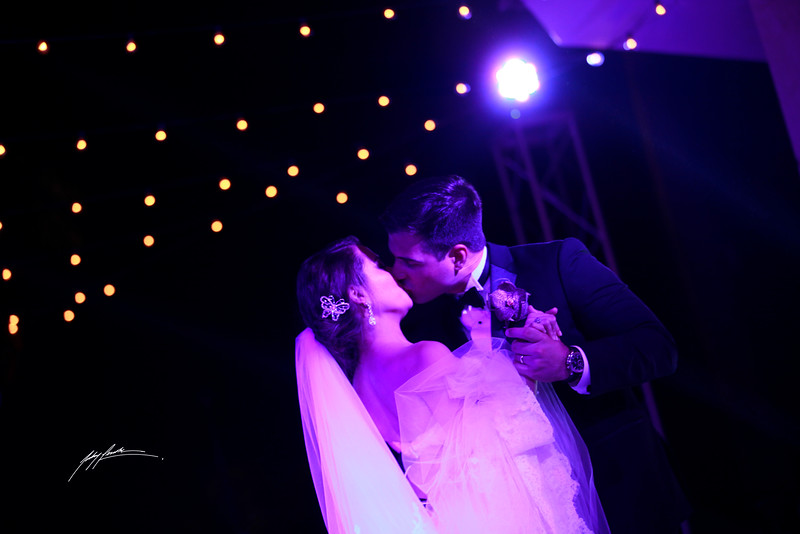 Where did your wedding reception took place?
​The reception took place at Barrance Este #9, Casa de Campo.
Tell us about your dress.
The dress is Saison Blanche Couture with encrusted hand-beading throughout and a Swarovski ribbon belt was added to accentuate the gown.  Every bride dreams of their wedding dress and finding their perfect gown. This dress was no exception. From that first fitting I knew this was the dress – my dress. It fulfilled every childhood fantasy of wanting to feel like a princess on your wedding day.
What was the theme of your wedding?
​I've always loved nature and I knew that somehow I wanted to incorporate those elements into my wedding and so I came up with an enchanted forest theme. Grupo Tres, who coordinated the event, really did a fantastic job of capturing the essence of what I really wanted. I still am amazed by what beauty they created.
Here are some pictures of the wedding:



Rebeca Diep & Charles Kondla wedding in Altos de Chavon


Wedding planning: ​Grupo Tres

Photography: ​Jochy Fersobe​

Dress: Saison Blanche​ Couture

Locations:

Wedding ceremony – San Istanislao Church​
Reception –  ​Barranca Este #9 , Casa de Campo​