This post is also available in: Spanish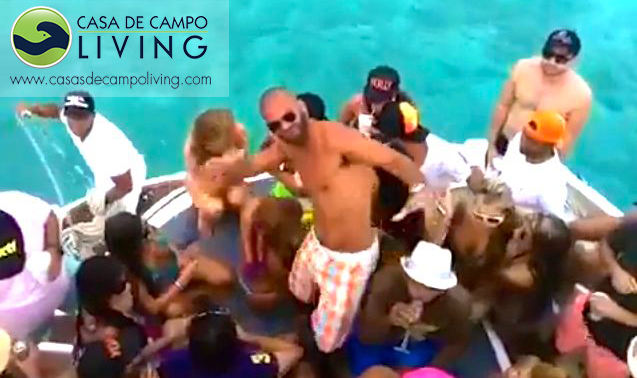 Well, well, well, didn't we all have fun last week during Semana Santa 2013!? I personally had a great time at the opening of TOY BOX Luxury Rentals, the Sunset Jazz Night at the Azimut Café, the finals of the Semana Santa Polo Tournament and the Praia party at the Marina Casa de Campo… but now that I've seen the video of the gorgeous Amaury Nolasco (from Prison Break) doing the Harlem Shake at Palmilla – I feel like I missed out on something!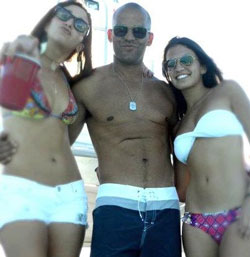 And so whilst I, my loved one (Philip Silvestri) and our friends deemed it too cold and rainy for a boat trip to Palmilla – it certainly looks like many others in Casa de Campo took the attitude of "the rain won't stop my party" – and set sail for Palmilla anyway! And why not!?
And in the midst of all that champagne swilling, dancing and partying, one particular boat – hosting special guest Amaury Nolasco – took the opportunity to make a "Harlem Shake" video, with Amaury playing the starring role.
This video is worth watching if only to enjoy Amaury Nolasco with his shirt off… enjoy!
[If you cannot see the video please "refresh" and it will appear.]
This video was uploaded to Youtube by: manavi22
2011/2012: Partying with Prison Break's Amaury Nolasco at Palmilla, the Marina and Minitas Beach!

Choosing to party it up in true Casa de Campo style, Amaury Nolasco was seen at all the best parties of the season 2011-2012, flanked by a group of beautiful Casa de Campo local ladies (among them the gorgeous Alexandra Varacalli, who contributed this photo), as well as a group of well-known Casa de Campo males, all of whom were only too happy to have the famous Prison Break star join them for the celebrations!
What is the Harlem Shake?
Honestly, I really don't know. From what I can tell from watching (researching) numerous different versions – it's a video of a person dancing, which suddenly and randomly descends into chaos with lots of other people "dancing" and jumping about. It's an internet thing.
This is what wikipedia has to say about the Harlem Shake…
The Harlem Shake is an Internet meme in the form of a video in which a group of people perform a comedy sketch accompanied by a short excerpt from the song "Harlem Shake". As a meme, the video was replicated by many people, using the same concept, and this rapidly led to it becoming viral in early February 2013, with thousands of "Harlem Shake" videos being made and uploaded to YouTube every day at the height of its popularity.

The form of the meme was established in a video uploaded on February 2 by five teenagers from Queensland, Australia known on YouTube as The Sunny Coast Skate. The video started a viral trend of people uploading their own "Harlem Shake" videos to YouTube. The teenagers' video was a follow-up to a video by a YouTube comedy vlogger named Filthy Frank which featured a section where several costumed people danced to the song "Harlem Shake" by Baauer.