This post is also available in: Spanish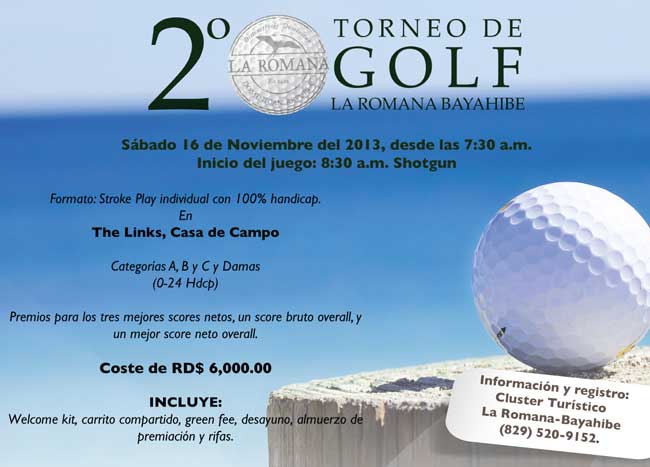 This Saturday the 16th of November, the 2nd annual La Romana – Bayahibe Golf tournament being organised by the La Romana – Bayahibe Tourism Cluster will be played on the Links golf course in Casa de Campo and there are some amazing prizes up for grabs!
At the end of the tournament, having just played a great game of golf, on one of the best courses in the Dominican Republic, all players will be entered into the raffle and will have the chance of winning the following fabulous prizes:
Return flight to the United States with Jet Blue Vacations
Return flight to Spain with Air Europa
Return journey to Puerto Rico with America Cruise Ferries
Hotel stays in Mexico and Bayahibe with Viva Wyndham Resorts
Hotel stays in Bayahibe with Be Live Hotels
Hotel stays in Mexico with Iberostar Hotels & Resorts
Hotel stays in Curazao and Bayahibe with Am Resorts
So what are you waiting for!? Sign-up to play on this great tournament now!
The Links, Casa de Campo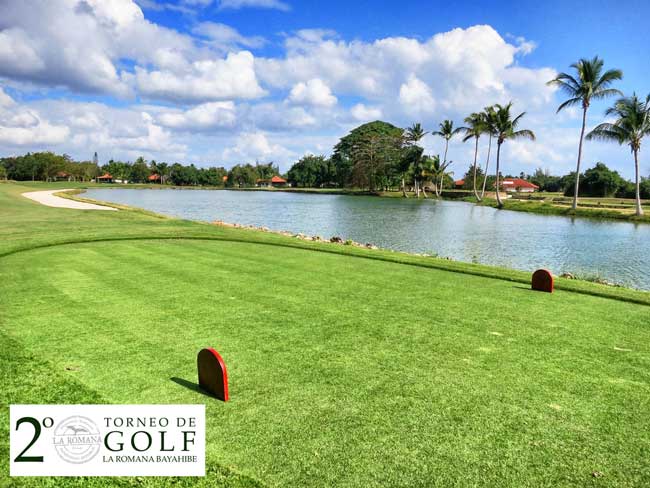 About the La Romana – Bayahibe Golf Tournament
The La Romana – Bayahibe Golf Tournament is celebrated every year with the objective of promoting La Romana-Bayahibe as the premier golf destination of the Dominican Republic, and the entire Caribbean. Funds raised will go to the La Romana – Bayahibe Tourism Cluster, whose mission is to continue to develop the destination as one of the best in the Dominican Republic.
Last year the activity was played at the La Estancia golf course and was a huge success, with participants from across the Dominican Republic coming together to play a friendly round of golf – and support an excellent cause.
Participating golfers will not only play in the tournament on the Links, but will also enjoy breakfast before tee-off, following which a prize-giving lunch with a raffle will take place.
The format of the game is Stroke Play Individual (a scoring system which involves counting the total numbers of strokes taken on each hole during the round), 100% handicap both masculine and feminine with a maximum handicap of 24.
2nd La Romana – Bayahibe Golf Tournament

When: Saturday November 16th, shotgun start at 8:30am

Where: The Links, Casa de Campo

Cost: RD$6,00 per person
(Includes breakfast and lunch at the Lago Grill, welcome kit, green fee, golf cart, )

Contacts: 829-520-7391, [email protected]

Register by: November 14th

For the most up-to-date schedule of events please visit www.TODO.fm 

We look forward to seeing you there!

La Romana Bayahibe Tourism Cluster

The La Romana – Bayahibe Tourism Cluster was founded in 2000 with the purpose to develop the La Romana – Bayahibe region into one of the Dominican Republic's most popular tourist destinations and the launch of this new annual tournament is just one more initiative amongst many which the La Romana – Bayahibe Tourism Cluster is using to not only promote the destination, but to also make it more appealing to visitors!