This post is also available in: Spanish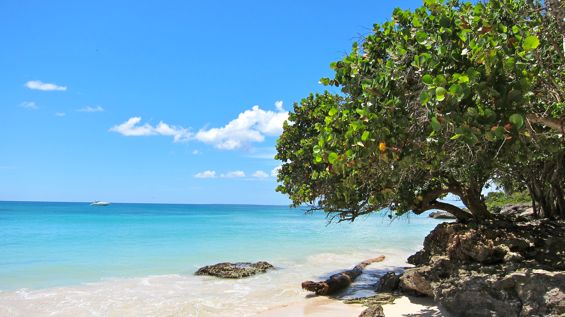 This week's photo of the week was taken at Casa de Campo's mysterious Playa Blanca previously know as "Oscar's Beach", which although the property of Casa de Campo is actually located outside of the Casa de Campo resort. 
Beautiful isn't it?
Playa Blanca is located somewhere between Casa de Campo and Bayahibe (I believe nearer to Bayahibe / Dominicus) and as you can see it is gorgeous! It's a small beach / cove surrounded by crystal clear blue ocean and is a fantastic spot for lunch and a few drinks.
Playa Blanca was previously called "Oscar's Beach" after a famous Dominican fashion designer who used to own a villa in Casa de Campo, as well as this beach – hence the name!
This article was written by Rebecca Hughes, editor of Casa de Campo Living and Casa de Campo's entertainment specialist!

Rebecca Hughes, Editorial and Events Marketing
[email protected]
TEL: 809-523-2045   CEL: 809-949-8906
BBM: 230DA5D1
Altos de Chavón, Casa de Campo La Romana

This article was produced exclusively for www.casadecampoliving.com