This post is also available in: Spanish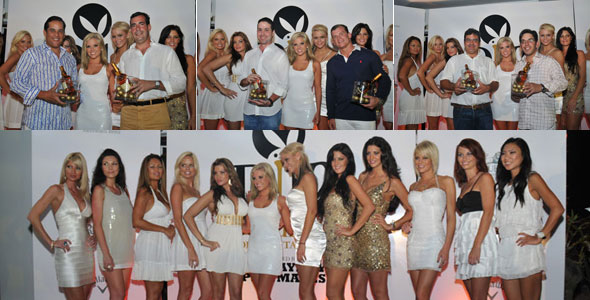 The Dewar's 12 Golf invitational, hosted by the Playboy Playmates was from beginning to end a tremendous success and for all who were involved endlessly exciting and glamorous – with the awards ceremony and after party being the finale to this spectacular event. The awards ceremony and after party was held in a private villa in Casa de Campo in the exclusive Punta Minitas area, with the presentation of trophies beginning at 9pm and the party going on well into the night… or morning rather.
Pulling up to the villa, the feeling was similar to that arriving at the Oscars; the beautiful driveway, lined with palm trees and bathed in glowing red lights winding up to the entrance-way, opened onto the party. Walking in, the first thing you saw was a glamorous sea of white and gold figures, gyrating to the funky music the live DJ was spinning under the star lit night, with the stunning Caribbean Sea lit up in the moonlight as the backdrop.  The villa was stunningly decorated in lights and very little else – a beautiful display of minimalist funk.
The DJ, not just any DJ mind you, but the resident DJ of the Playboy Club in Las Vegas, was setting the perfect tone with a mix of latin, pop and dance music. The 12 Playboy Playmates were mingling into the crowd, flirting shameless, and dazzling every man, and perhaps even a lady or two, with their curvaceous charms! For those wondering which Playboy Playmates graces Casa de Campo and the Dewar's Golf Invitational with their presence, look no further (we've done the research for you, as best we could):
Jillian Beyor, Playboy 2008 Model Of The Year
Crystal McCahill, Playmate of the Month for May 2009
Hope Dworacyk, Playmate of the Month for April 2009
Kayla Collins, Playmate of the Month for August 2008
Laura Croft, Playmate of the Month for July 2008
Aj Alexander, Playmate of the Month for May 2008
Alison Waite, Playmate of the Month for May 2006
Monica Leigh,Playmate of the Month for March 2006
Raquel Gibson, Playmate of the Month for November 2005
Kara Monaco, Playmate of the Month for June 2005
Courtney Culkin, Playmate of the Month for April 2005
Janine Habeck, Playmate of the Month for February 2004
With a seemingly unlimited supply of Dewar's 12 premium scotch on offer from the multiple satellite bars, La Aurora cigars being hand rolled and handed them out on demand and the music never missing a beat – this party was pumping!  It was clear that Dewar's 12, the main sponsor of the event, had taken a no expense spared approach to not only the tremendous party, but to the entire event! From our perspective, everyone involved was a winner, but in all fairness, from all of us at Casa de Campo Living, we would also like to go ahead and congratulate the winners of tournament:
Category A.
3rd place. Rafael Pérez / Danilo Díaz. Score 61.
2nd place. Manuel García / Carlos Hoyo. Score 59.
1st place. Milvio Coiscou / Milvio de Soto. Score 57 .
Catergory B.
3rd place. Amilcar Kalaf / Rafael Barceló. Score 56.
2nd place. Domingo Fernández / Conrad Pittaluga. Score 56.
1st place.  Domingo Bermúdez / Danilo Bobadilla. Score 56.
Category C.
3rd place.  Alexis Pión / Ramón Ortega. Score 55.
2nd place. Jorge Victoria / Erwin García. Score 52.
1st place. Gonzalo Castillo / Placido Fernández. Score 50.
Best Gross Score  Jose Abel González / Francis Selman. Score 64.
Longest Drive Hole 6 / CALLAWAY. Domingo Bermúdez.
Longet Drive Hole 6 / CALLAWAY. Abraham Selman.
Closest to the Pin HOle 5 / LA AURORA. Gamal Haché.
When asked if we could count on this becoming a yearly event, Alex Yaryura, smiled and told us that given the great success they have seen, this could indeed be the first of many more events to come – something we look forward to! So you know what this means?  Its time to start practicing your golf and keep enjoying your Dewar's 12 if you even want to be considered for next year!
People keep asking us if we ever get bored living in Casa de Campo. With so many amazing events, does it sound like we have time to be bored? There is no better living than Casa de Campo Living!
This article was written by Rebecca Hughes, editor of Casa de Campo Living and Casa de Campo's entertainment specialist!

Rebecca Hughes, Editorial and Events Marketing
[email protected]
TEL: 809-523-2045   CEL: 809-949-8906
BBM: 230DA5D1
Altos de Chavón, Casa de Campo

This article was produced exclusively for www.casadecampoliving.com