This post is also available in: Spanish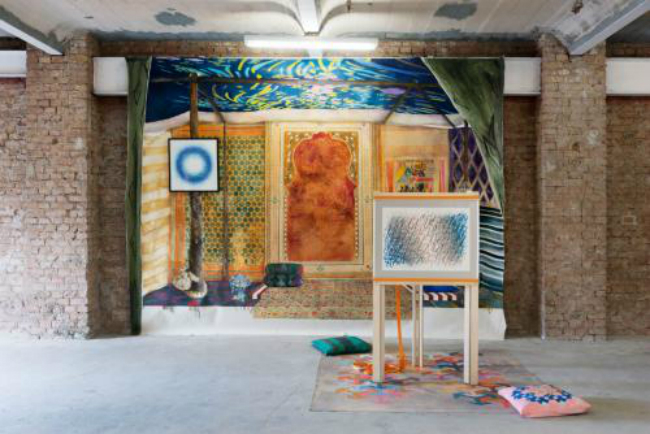 Thanks to the Davidoff Art Initiative Residency program we had a chance to chat with a very interesting artist, Paolo Chiasera. With us he discusses art, his vision, experiences in the Dominican Republic and his participation with Davidoff.
How did you become an artist?
At the age of 12, I was involved in a graffiti scene in Bologna, and I use to collaborate with various writers to take part of the scene. My first studio was in my garage when I was 14, and I was working mostly with painting.
If I had to think when I realized I wanted to go to art school, it would be when I was in a park playground. I remembered playing with a chunk of mud on the ground and that time did not existed in that moment. I had a sense of freedom and the intent to follow it. That was the moment I gave up all other childhood dreams you want to do, like become a fireman. Immediately, I began to concentrate on images, and at this time archeology. Creating an image can be something very complex, something composed of many layers.
Where do you derive your inspiration?
Inspiration comes to me very randomly. After you do something for a while you can recognize the way your mind works.  Perspective is something that inspires me; being surprised and open to what is in front of you. It seems like a crazy thing to try to look at something for the first time. Then you realize that everything is reputable and unique.
A key figure in my creative process is Aby Warburg; he is not an artist but a writer and art historian. What he did last century is a new approach in looking at history as not something linear. It is not something that can be defined as a process, but is circular or like that of a spiral, which provided a different look at what is contemporary. He connected imagines which were far from one another timewise, but concerned the same memory.
Did Italy's classical art influence you in any way?
Well, I am Italian but half of my life I did not live there. Of course, there is a memory landscape that defines my visual perception, like the fog of Michelangelo Antonioni. It is present in my thinking. But, at some point, I discovered middle European culture that was a very important moment in my research, especially in relation to institution and critique.
What inspired you to integrate space to your art and look at it from context perspective?
Look at this glass on the table…We can see it as a glass or we can see it as an series of practices which made it be an object of our experience. All of a sudden, the glass relates a story to the people who worked producing it since its origin as a mineral. As you can see in something very simple, the moment you try to indicate the beginning, the object becomes a story. So that is what I work on in my studio. To find this layer of history to tell a story.
So you consider yourself a storyteller?
Yes; I am intrigued by the possibility of narration, the opportunity to re-describe the experience of past and present. In my artistic practice, I become more and more interested in the quality of display and the way in which display affects the visibility of a piece of art. I am an artist, but at the same time I have begun to engage in curatorial discourse. This conversation of an exhibition leads me to the thought of running my own space.
In Berlin?
Berlin used to be very punk city where from day to night the art was popping up. Unfortunately, it is not like that anymore; it become more structured and similar to other big metropolises. This is a situation where all the space of freedom starts to disappear. As a form of resistance to that, I decided to open my own exhibition space, titled "Secondostile". It is flexible architecture on canvas.
How did you become a part of the Davidoff Art Initiative?
I had a chance to meet some Dominican artists in Miami during Art Basel, and it all became a natural process we kept discussing through social media. Then some artists through Davidoff came to Berlin where we continued our conversation. I had been nominated by one of the members of the Davidoff art program, and was later selected for the residence. Now I'm here! It evolved from a real engagement with Dominican artists.  
My new project for the art residency is a magazine, but not in the traditional way we are used to seeing it. It is like a collapse of different functions, titled "Ambushed".  The first issue will be addressing questions about the future of art institutions. It is an interesting topic for the Caribbean considering much of the island lacks institutions for art.
Is it important to you to work with students and influence young artists?
I brought one of my spaces with me from "Secondo Stile", the Bedouin tent. When I presented this project during the presentation, students got really thrilled and started to write the proposal as their own initiative to make an exhibition inside of the tent. They came to my studio to ask questions, and we decided to structure a workshop around organizing an exhibition.
It is the first time you're in the Dominican Republic; how do find the culture? Does the place inspire you in any way?
Yes; it has been very refreshing to be here. I have not had a lot of chances to experience the Dominican culture yet since I have only been here for a week.  But I have gone to Santo Domingo and La Romana, and loved Bayahibe beach. Here in Chavón, it is nice place to collect thoughts and work.
I know you are cigar smoker what is your favorite one?
I should say my favorite one is Nicaragua by Davidoff. Cigars here are amazing and a big part of the culture.
Artist, writer and curator Paolo Chiasera's multi-disciplinary work, which spans painting, video, performance and installation, is primarily informed by the artist's inquiry into historical images, myths and cultural icons. Chiasera's work takes history as a starting point for a process of creative deconstruction and reconstruction, sourcing material from film, literature and philosophy as a way to reconstitute narratives and engage collective memories from the viewer. Paolo Chiasera is an Italian conceptual artist, and lives and works in Berlin.
Art & Gourmet Cocktail

Open Studio visits & drinks at Davidoff Art Residency.

Where: Altos de Chavón
When: Friday, February 19th
Time:

5pm – 7pm

Art & Gourmet Cocktail at Dye Fore

Enjoy signature dishes presented by Peter Knogl, 3 Michelin starred Chef from Switzerland and our very own Anthony Masas, Executive Chef at Casa de Campo. Dishes are accompanied by cocktails, wine and freshly rolled Davidoff cigars.

Time:

7pm – 10pm

Cost:

US$150 per person. Number of tickets are limited.

For further information, package prices and reservations, please contact: [email protected] or Concierge here in Casa de Campo, (809) 523-3333 ext. 3165 and 3166.
Davidoff White Gourmet Night

Don't miss the opportunity to enjoy fine cuisine, drinks and Caribbean beats at Minitas Beach. Peter Knogl will take you on a culinary journey of a 5-Course Gourmet dinner, paired with exclusive wines, rum and freshly rolled cigars. During the event, you will be part of the global launch of a special Davidoff Limited Edition Cigar exclusively created for Davidoff Tour Gastronomique Weekend.

Where: Beach Club, Playa Minitas

When: Satuday, February 20th, 2016, 7pm – midnight

Cost: US$360 per person. Number of tickets are limited.

For further information, package prices and reservations, please contact: [email protected] or Concierge here in Casa de Campo, (809) 523-3333 ext. 3165 and 3166.
Gourmet Island BBQ

Enjoy an exciting catamaran trip to a secluded island "Playita Privada"  culminating in a high-end Seafood BBQ presented by Swiss 3 Michelin starred Chef Peter Knogl with amazing wines and cigars on the beach.

Where: Playita Privada

When: Sunday, February 21st, 10am– 3pm

Cost: US$190 per person. Number of tickets are limited.

For further information, package prices and reservations, please contact: [email protected] or Concierge here in Casa de Campo, (809) 523-3333 ext. 3165 and 3166.

Images provided by davidoffartinitiative.com