This post is also available in: Spanish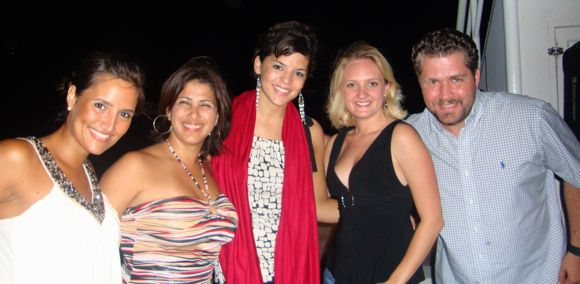 On Saturday the 10th of October a group of intrepid Casa de Campo explorers arrived at the Rio Marina dock, dolled up and ready to board the Maiden Voyage of the Onno's Booze Cruise.
The authentic replica paddle boat set sail at 9pm, with a large group of wild passengers ready to have a great time, a DJ and of course an amply stocked bar. This miscellaneous mix of merry river-faring passengers was made up of Casa de Campo residents, villa owners and minor celebrities (such as myself), Altos de Chavon art students, a lovely couple from Puerto Rico, a rather amusing Ukrainian and of course Nathan Bailey, owner of Onno's along side Jupe, manager of Onno's.
And as the boat first set sail up the Chavon river towards the sea, the drinks began to flow and the various groups started to mingle, relax and even shake their groovey thing on the dance floor.
Aside from the drinking, dancing and general merry-making the Booze cruise had several special qualities that made it stand out from an ordinary night:
The views from the side of the boat of; the houses perched high on the cliff top above the Chavon river, the reflection of the trees and and bushes in the river and of course the stars in the beautiful Caribbean sky.
Feeling the wind in your hair and the gentle rocking of the boat as it sailed up and down stream, the perfect way to relax and enjoy a good drink (or several.)
The surprisingly large dance floor, which in order to prop up the upper deck of the boat is peppered with poles, which later on in the night were used by men and women alike as 'dancing poles.'
What a fantastic night! Congratulations Onno's for organizing something different!
Onno's has announced that the Onno's Booze Cruise will be a monthly event, so if you missed out this time, join us next time – in November, date to be confirmed.