This post is also available in: Spanish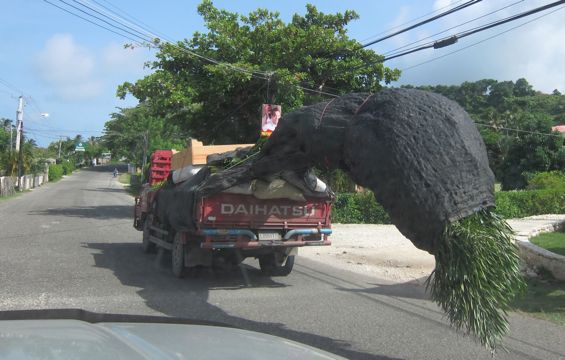 Palm tree anyone? Figuring out how to transport your palm tree when you move house most be a real nightmare – but fear not, it seems with a red pick up truck and plenty of black material, anyone can do it! Are you up for the challenge?
This week's "Only in the DR" was taken on the coastal road between Cabarete on the Northern coast of the Dominican Republic and La Romana.
In actual fact the transportation of Palm Trees in and around the Dominican Republic is rather normal (how else do you think Casa de Campo villa's get beautiful palm tree arrangements in the gardens?)
However, the way in which this palm tree is being transported is rather unusual…….it looks to me like the poor tree was just thrown in the back as an after thought…..
"Hermano, es todo?"  (dude, is that everything?)
"Si" (yes)
"y la palma" (what about the palm tree?)
"ay dios mio" (oh good lord)
"vamos pon lo aqui" (come on put it here)
"ok, ya vamos!" (alrighty then let's go!)
LOVE that the palm tree looks to be weighted town by a bed and mattress – what man can sleep without his trusty palm tree?
Only in the Dominican Republic! 
We want your photos and/or stories!
If you have any photos of classic DR scenes or even bizarre photos or stories, we would love to hear from you!

Email: [email protected]
This article was written by Rebecca Hughes, editor of Casa de Campo Living and Casa de Campo's entertainment specialist!

Rebecca Hughes, Editorial and Events Marketing
[email protected]
TEL: 809-523-2045   CEL: 809-949-8906
BBM: 230DA5D1
Altos de Chavón, Casa de Campo La Romana

This article was produced exclusively for www.casadecampoliving.com