This post is also available in: Spanish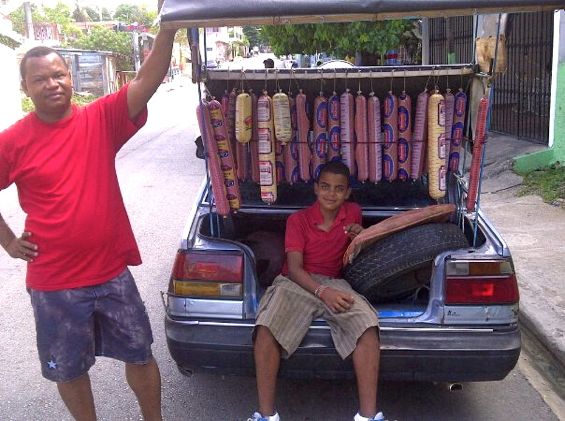 Fried salami is a Dominican food staple – so much so that the family in this photo decided to turn it into a family business! 
This week's 'Only in the DR' photo was yet again sent to us by Carlitos Pichardo, the owner of Dom Ham, burger joint in La Romana (which incidentally doesn't sell fried salami), who last week sent us a photo of the 'Yuca Monster' (click here for that article.) 
Carlitos sent us this photo with the phrase 'Salami a domicilio' – which basically implies that the gentlemen pictured in the photo are supplying a salami delivery service – very handy for when you run out of salami in the mornings!
We want your photos and/or stories! If you have any photos of classic DR scenes or even bizarre photos or stories, we would love to hear from you!

Email: [email protected]

BB: 230DA5D1
This article was written by Rebecca Hughes, editor of Casa de Campo Living and Casa de Campo's entertainment specialist!

Rebecca Hughes, Editorial and Events Marketing
[email protected]
TEL: 809-523-2045
BBM: 230DA5D1
Altos de Chavón, Casa de Campo

This article was produced exclusively for www.casadecampoliving.com