This post is also available in: Spanish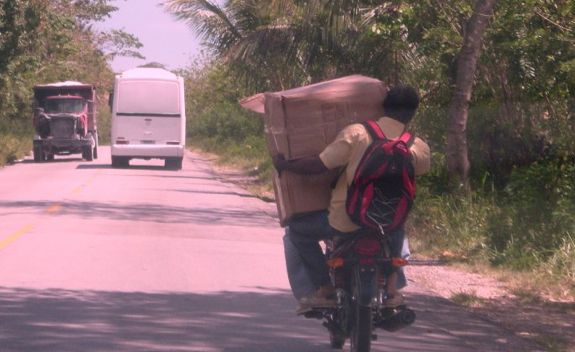 This week's crazy 'Only in the DR' photo was taken by Aimee Barlow, one of the new teachers at the Abraham Lincoln School.
The photo was taken out on the road in rural DR, where to stay safe on the road it's best to expect the unexpected!
In this photo a large paper box seems to be driving a motorbike, but if you look carefully (at the legs), you can see that there is a second person, who must be driving.
How on earth is the poor driver (no doubt a moto-concho driver) managing to stay up right?
Ah the perils of driving in the DR! To read other 'Only in the DR' driving mysteries and shockers, click on the links below:
Only in the DR: Mochivo!
Only in the DR – Truck in truck
Only in the DR: Big fish will travel!
Only in the DR: road buggy!
Only in the DR: a drive-thru Bar!
If you have any classic 'Only in the DR' photos please send them to us at: [email protected]
THANK YOU Aimee for the photo!