This post is also available in: Spanish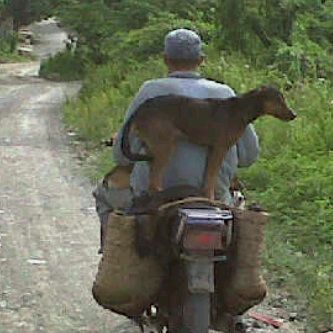 This week's 'Only in the DR' was taken from the BB (Blackberry) profile photo of my beloved Philip Silvestri, who cannot remember the origin of the photo – but as it portrays such a classic 'Only in the DR' we couldn't reisit sharing it with you!
"Cry havoc and let loose the dog on the bike"
Other than the fact that this photo seems to have mysterious appeared on Philip's BB, we know nothing about it, which leaves me pondering…..where? when? why? how?
Sadly I have no real answers to these questions soooooo….here are my thoughts on the matter:
Where?
The road to no-where
When?
Wednesday afternoon, 3.22pm
Why?
It seems obvious to me that the pup in the picture needed a ride home, so he enlisted the 'taxi' services of this moto-concho driver. Why else would a dog be on the back of a moto-concho?
How (is this dog standing)?
Relaying on a safe and slow driving technique from his 'chofer' as well as using his 'core' muscles to stay balanced.
Genius! Are we soon to see a boom in puppy taxi services?