This post is also available in: Spanish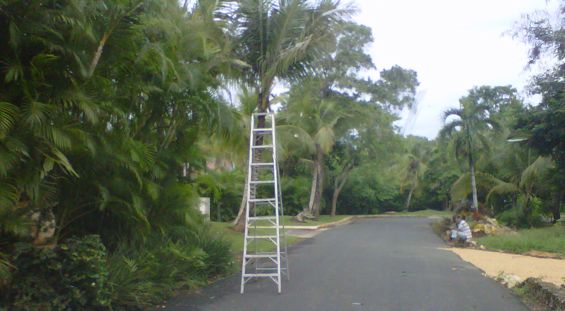 When driving in the Dominican Republic, it is always advisable to "expect the unexpected" – you really never know what weird and wonderful transport solutions you may encounter and equally you never know what random objects may be randomly placed in your path – like a ladder for instance.
Driving around Casa de Campo in the La Romana area of the Dominican Republic is in general less "random" and much more safe – but there are always the odd time when you round a corner and find something completely unexpected. This week's "Only in the Dominican Republic" photo was taken on Costa Verde in Casa de Campo – this ladder was just left completely randomly in the middle of the road – with no-one using it or looking after it. But what I find most baffling about this ladder is that it is no where near anything – there are no trees, branches, wires etc within its reach, so what is it doing there?
Yet another unsolved mystery of happening in the Dominican Republic!
We want your photos and/or stories!
If you have any photos of classic DR scenes or even bizarre photos or stories, we would love to hear from you!

Email: [email protected]
This article was written by Rebecca Hughes, editor of Casa de Campo Living and Casa de Campo's entertainment specialist!

Rebecca Hughes, Editorial and Events Marketing
[email protected]
TEL: 809-523-2045   CEL: 809-949-8906
BBM: 230DA5D1
Altos de Chavón, Casa de Campo La Romana

This article was produced exclusively for www.casadecampoliving.com