This post is also available in: Spanish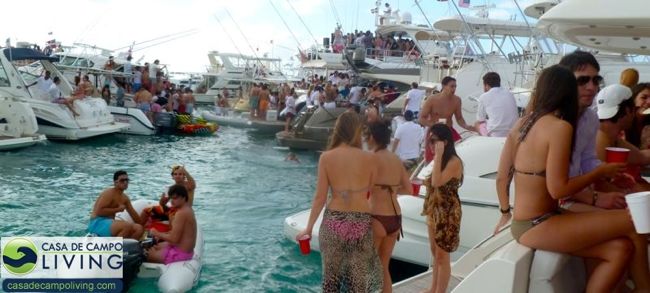 The PALMILLASO boat trip on New Years Eve, is, in my humble opinion the best party of the year – so to make sure you're fully prepared to have the best time ever, here we bring you our guide to the "PALMILLASO must-haves."
Here are our top 3 "PALMILLASO must-haves"…..
1. A BOAT!
As Palmilla is only accessible by boat – this item is pretty essential! Of course not everyone actually owns a boat, so if you don't have a boat, your options are:
• Find a friend who does have a boat – and get invited. This is not as easy as it sounds, boats do have a limited capacity – so you may be left high and dry (literally)
• Rent a boat. Although certainly not inexpensive, renting your own boat is a great option – that is if there are any still available…..
• Join the Casa de Campo Living PALMILLASO party! We've rented a catamaran so that party lovers (like us) can join the Palmilla party without worrying about the "boat problem"! For just USD$150 per person (and that includes an open bar), you can join our party – stress free! Click here to find out more!
Palmillaso 2010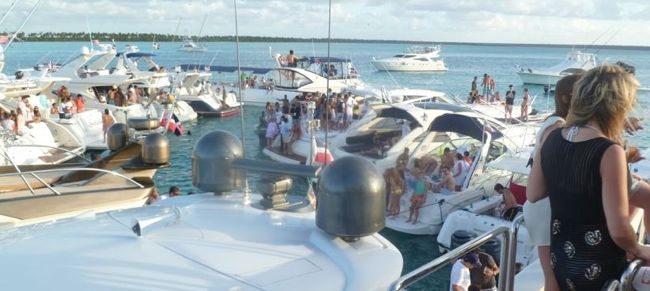 2. ALCOHOL
If you forget literally everything else, do NOT forget the champagne! This is a celebration after all! A few good places to stock up are:
• La Enoteca – is a specialist in good quality wines, spirits and most importantly champagne.
• The Nacional Supermarket – has a good variety but will be VERY crowded!
• Plaza Lama in La Romana – for those of you who plan (and shop) in advance, this is the best place to stock up.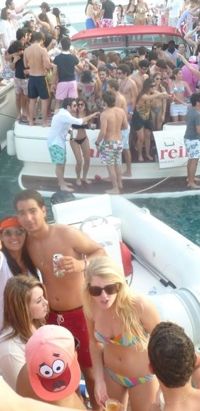 Of course for those of you joining us for the Casa de Campo Living PALMILLASO party – we don't need to worry about alcohol, we've got that organized – thanks to our sponsors Presidente Beer and Ron Barcelo.
3. KEY ACCESSORIES!
This is no ordinary party, so you'll want to look your best – a few key accessories will help you pull off both!
• Sunglasses – pick up the lastest designer rims in Carmen Sol New York SUN in the Marina Casa de Campo
• Bathing Suit – for most, the idea of strutting around partially naked can be a little intimidating, so to boost your confidence get yourself a brand new bathing suit! For men, we recommend Vilebrequin, whilst for ladies both KIWI and Carmen Sol New York in the Marina Casa de Campo stock bikini's to show off every beautiful curve.
• Sunscreen – Applying sunscreen is undoubtedly a pain, but lobster red is definitely not this season's 'in' color.