This post is also available in: Spanish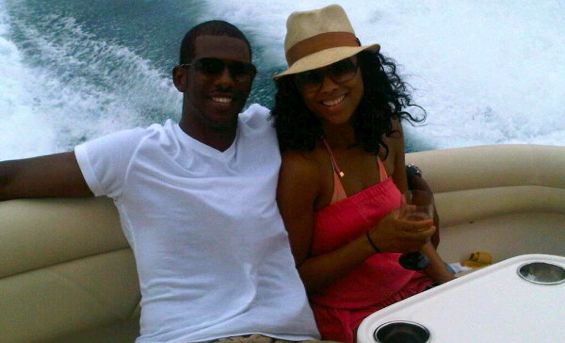 Casa de Campo, tropical paradise and the Caribbean's Leading Golf Resort with it's excellent sporting facilities, stunning villas and paparazzi-free environment  is a favorite vacation spot for many celebrities, tycoons and sporting personalities alike and most recently Chris Paul, NBA basket ball player was spotted having a good time here. 
As I have already mentioned Casa de Campo is 'paparazzi-free' so the following story of Chris Paul's time in Casa de Campo and photos were generously contributed by Chris Paul himself via his twitter 'CP3.' So here goes the short story of Chris Paul in Casa de Campo:
Friday June 24th – Chris Paul arrives into the Dominican Republic and we assume Casa de Campo
Twitter 'CP3' : "Yesirrrrrrr WHEELS DOWN in D.R!!!"
Saturday June 25th – Chris Paul and a lady friend 'J' enjoy a relaxing day in Palmilla, Casa de Campo's favorite party spot – only reachable by helicopter or yacht our of the Marina Casa de Campo.
Twitter 'CP3' : "Me and J on the boat yesterday…#blessed #neededthis"
(Tweeted on Sunday June 26th so we assume the boat trip to Palmilla was on Saturday.)
Sunday June 26th
Twitter 'CP3' : "A few kids jus ran up to me here in the DR sayin they wish we wouldve beat the Lakers!"
This was tweeted along with this photograph: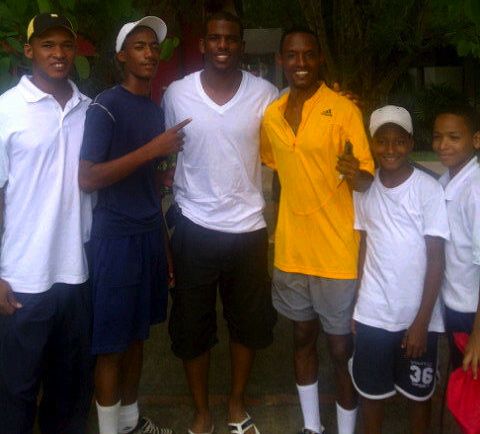 In this photograph standing next to Chris Paul is Pedro Nolasco, one of the Casa de Campo tennis professionals along with some of the Casa de Campo ball boys – so from this photo perhaps we can deduce that Chris Paul played a little tennis whilst he was here in Casa de Campo, although in the photo he is wearing flip flops, so perhaps not…..
Sunday June 26th
Twitter 'CP3' : "En Casa de Campo perfeccionando mi español…La pasamos increible! Palmilla estaba espectacular"
Which translates as 'In Casa de Campo perfecting my Spanish…we had a great time! Palmilla was spectacular!"
Today, Monday June 27th at about 8am
Twitter 'CP3' : "Up earlier bout to play a quick 18 w/ @CP3 b4 we head back to the states. Let's see how I follow up my 76″
From which we can deduce that Chris Paul has now left or is about to leave Casa de Campo and is back in the US and that he also played some golf whilst he was here – most probably on the famous Pete Dye designed Teeth of the Dog.
UPDATE (Monday, June 27th, 5pm): Chris Paul is now back in the United States, about an hour ago he tweeted "WHEELS DOWN back in the States!"
We hope you enjoyed Casa de Campo, our little piece of Paradise Chris! Come back soon!
P.S Rumor has it that Chris Paul was here in Casa de Campo with some other basketball players……we hope to be able to confirm this rumor with some photos soon – watch this space!
This article was written by Rebecca Hughes, editor of Casa de Campo Living and Casa de Campo's entertainment specialist!

Rebecca Hughes, Editorial and Events Marketing
[email protected]
TEL: 809-523-2045   CEL: 809-949-8906 (evenings and weekends)
BBM: 230DA5D1
Altos de Chavón, Casa de Campo

This article was produced exclusively for www.casadecampoliving.com