This post is also available in: Spanish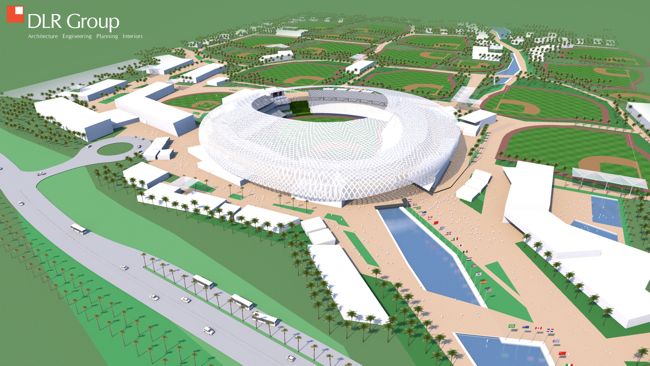 Preparations for the Dominican Republic's most ambitious baseball project, the Latino Baseball Town (LBT) are ongoing, and this past Wednesday July 23rd, a luncheon was celebrated to announce the progress. 
Hosted by Casa de Campo and Mr. Roberto Weill, Founder & President of the LBT and the Salon de la Fama del Beisbol Lation (SFBL), the gathering brought together the 31 executives of the Dominican Republic's MLB baseball academies in order to report on the progress of the Latino Baseball Town project.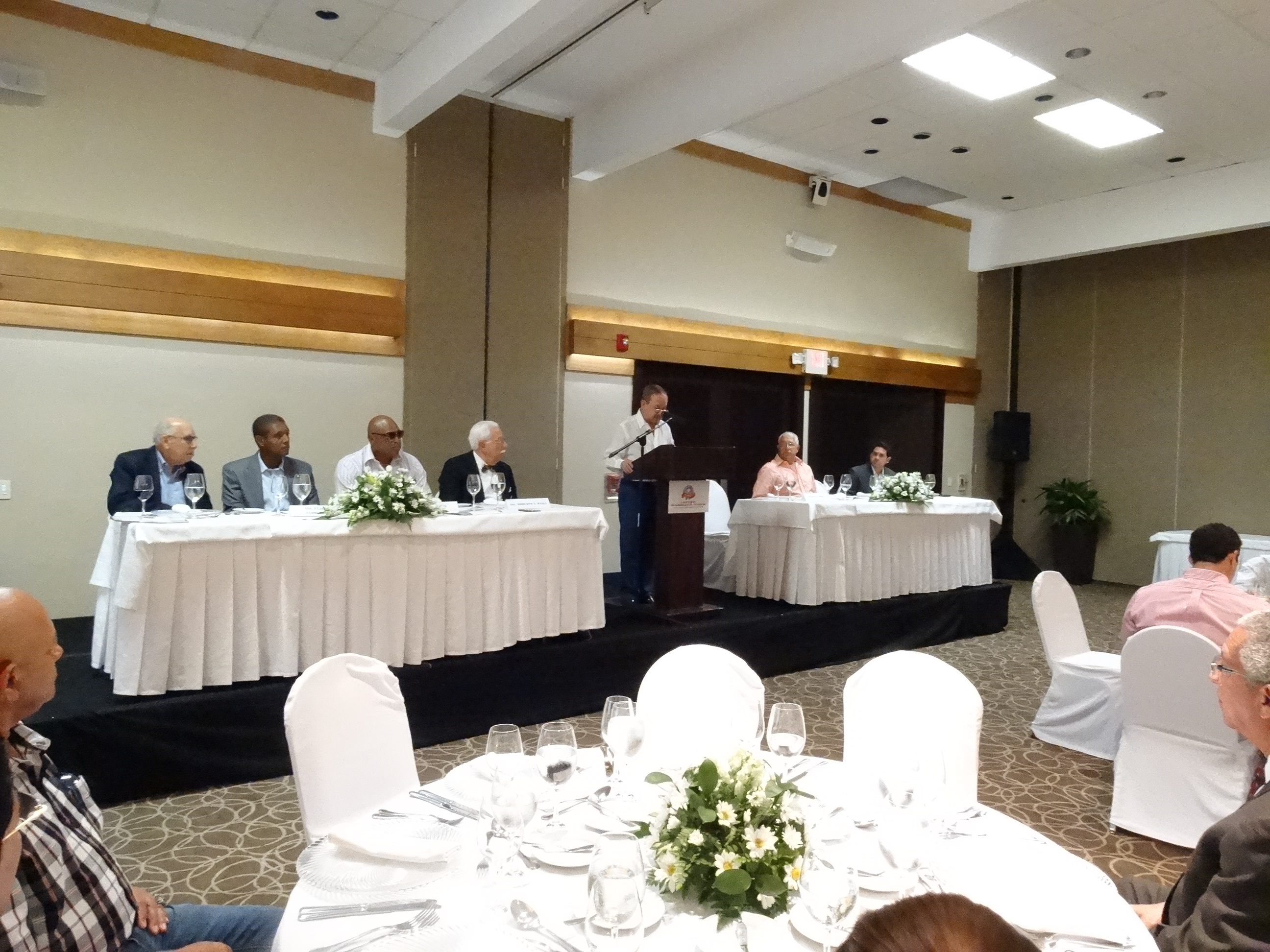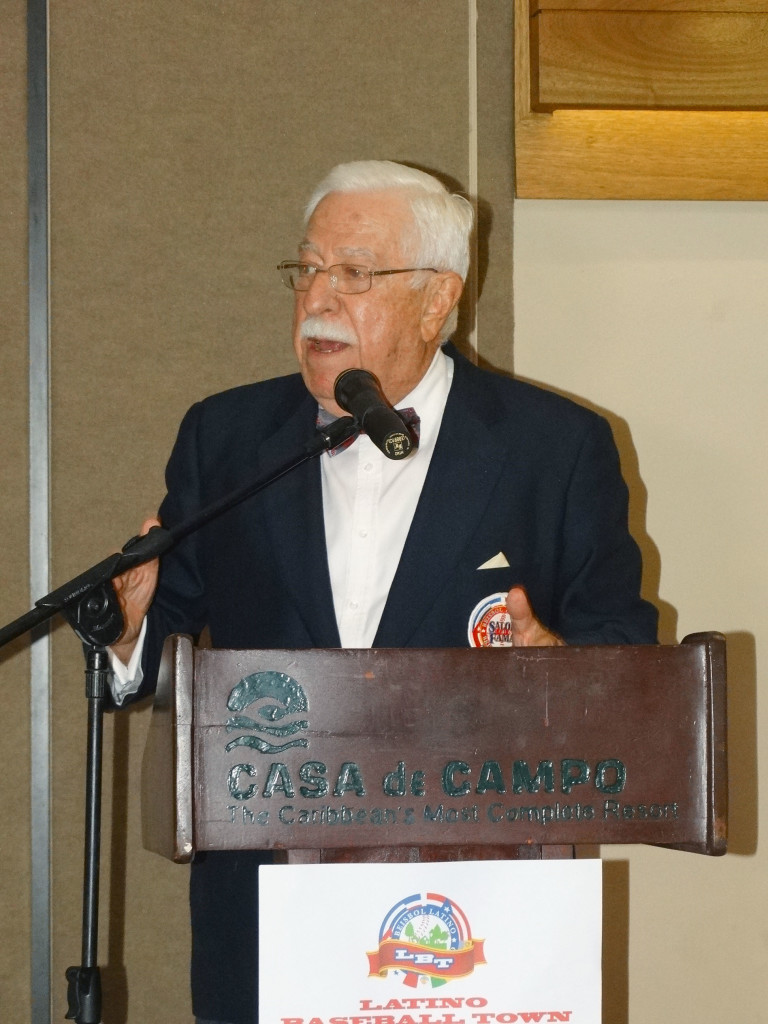 This pleasant occasion held at the Conference Center Flamboyan in Casa de Campo was attended by; Mr. Ellis Perez, who served as moderator;  Mr. Jose Cano, Former MLB baseball player and father of the baseball superstar Robinson Cano; Rafael Torres, President Casa de Campo; and as host Mr. Roberto A. Weill, Founder & President of the Latino Baseball Hall of Fame and Latino Baseball Town; as well as, Mr. Pablo Peguero, General Manager of the local baseball team Los Toros del Este.
During the presentation of this megaproject, Mr. Roberto A. Weill made special emphasis on the strategy, which seeks to transform the Dominican Republic into a baseball epicenter in the Caribbean. While the MLB (Major League Baseball) already has 3o baseball academies here in the Dominican Republic, the next step is to build additional facilities, so that once graduated from these baseball academies, young baseball hopefuls can continue their training in a Class A and Instructional League. The Latino Baseball Town seeks to provide these facilities, along with the support of international baseball teams of course.
During his speech, Mr. Roberto Weill also mentioned that the project will have 32 income sources and will include a "Latino Center Stadium" with a capacity for 2o,000 spectators (expandable to 30,000), built to meet MLB requierements. The construction of this new stadium would allow the Dominican Republic to be one of the hosts of the World Baseball Classic in 2017, as well as Major League Baseball exhibition games.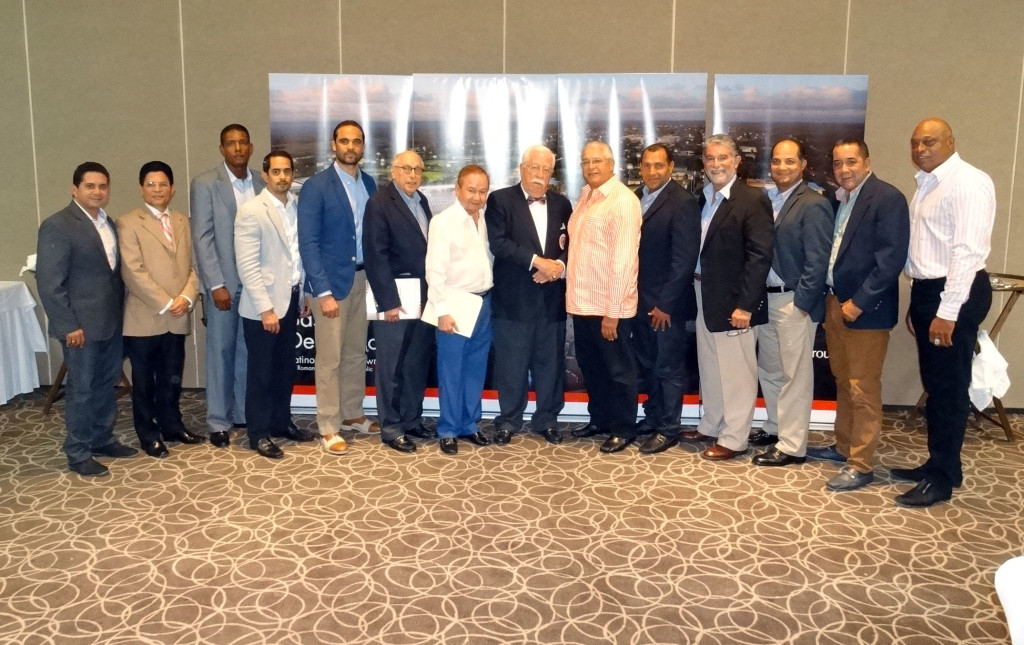 To be located right here within the La Romana-Bayahibe area, the Latino Baseball Town will give a significant boost to the local economy (more jobs), as well as to sports and tourism.
The following collection of photos were taken by Alejandro Heredia during the luncheon with MLB executives at the Salón Flamboyan in Casa de Campo: 



About Latino Baseball Town

VISION

A one-of-a-kind, visionary development merging the best in baseball player development and competition with the unforgettable 'Latino Fan Experience' of the Dominican Republic – ground breaking took place in November of 2014.

TIMING

Long a source of national pride, it seems the international community is now awakening to the pure statistics of one of the Dominican Republic's prime exports – peloteros, or baseball players. The secret that many in the baseball community have known for some time, by virtue of all 30 Major League Baseball teams hosting player development academies in the Dominican Republic, is increasingly taking on an international flavor. If any doubt of this country's emergence as a baseball superpower remained, it has been thoroughly routed by the Dominican Republic's undefeated run in the World Baseball Classic 2013. When combined with the leadership of the Latino Baseball Hall of Fame, a rapidly growing tourism industry, and a highly-supportive national government, this project presents an opportunity to realize the natural synergy seeming to take form – that of 'A World Baseball Destination

LOCATION

Strategically located at the geographic center of Caribbean tourism, Latino Baseball Town will present a mixed-use destination complete in its offerings. This $600 million development is designed to appeal to the many and varied patrons that it will attract – Latinos, Americans, and the international tourist. Along with its location on the just-completed Coral Highway linking the Dominican Republic's major cities, tourist destinations, airports and cruise ports, the project is poised to benefit from direct and affordable flights originating from throughout the Caribbean, the Americas, and Europe.

PROJECT COMPONENTS

Set on over 1,500 acres of prime real estate, Latino Baseball Town will feature the best the Caribbean has to offer in live sporting events, living, hospitality, shopping, dining, entertainment, and recreation. Designed by the renowned sports architecture studio of DLR Group, with a team of experts including the master planning practice of SOM, the development will welcome residents and guests with generous parkways, water features, pedestrian paths, security and amenities.

The centerpiece of the project will be the only venue commensurate with the Dominican Republic's stature in baseball, the Latino Center National Stadium. This competition baseball facility will be second to none in the region, capable of hosting the World Baseball Classic, Major League Baseball Spring Training and Regular Season games, the Caribbean Series, FIFA soccer matches, concerts, and special guests. Taking stage immediately adjacent to the Stadium will be a complementary center of interest, the Latino Baseball Hall of Fame and Museum, an attraction of significance to locals and tourists alike.

Emanating beyond the Stadium and Hall of Fame, a third primary component of Latino Baseball Town will be the Major League Baseball player development complexes. These state-of-the-art, 'six-star' facilities will allow teams to invest not only in the training and development of prospects, but also in the safety, education, and comfort of the players themselves.

While Latino Baseball Town is designed as a showcase for many of the world's top athletes, it is equally intended as a destination for families and for young players to hone their talent. In fact, youth participation in advanced levels –often called 'club' or 'travel' baseball and softball– is currently demonstrating remarkable growth. In the United States, the travel baseball market has multiplied from 1,000 to 40,000 teams in just ten years, an annual growth rate of 45%. At current, there are several high-profile training and tournament facilities across the United States, some of which capitalize on the name-recognition value of affiliated former Major Leaguers. At Latino Baseball Town, there exists a similar opportunity to create a 'family vacation destination,' complete with an elite youth baseball program drawing visitors from across Latin America and the United States.

Of course, Latino Baseball Town will be about much more than baseball. When complete, it will boast a critical mass of more than one million square feet of retail and dining, thousands of hotels rooms in close vicinity, and hundreds of personal residences set within a beautifully-landscaped, well-connected, and secure environment. It will feature all the necessary services provided on-site, from water and electricity, to police and fire protection – essentially a city unto itself. This unprecedented scale and confluence of factors will allow Latino Baseball Town – and the Dominican Republic – to rightfully assert claim to the title, 'A World Baseball Destination.'