This post is also available in: Spanish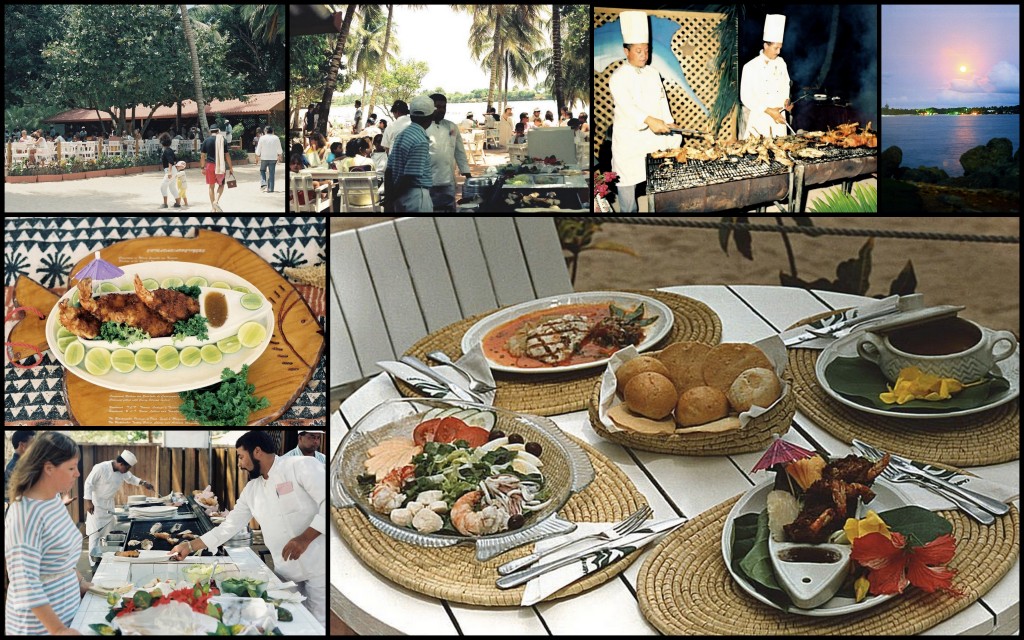 In this week's 'Memories of Casa de Campo' post, Carol Burke, our weekly writer, writes about eating on Minitas beach at the Pescador restaurant, which has no become the BeachClub by Le Cirque. This article is Carol's 51st article – meaning that this week we celebrate 1 year of publishing Carol Burke's wonderful memories and photos of Casa de Campo, later in the week we will be publishing a special celebratory Memories article to commerate this great achievement – many, many thanks to Carol for all her hard work!
"The pleasant hours of our life are all connected by a more or less tangible link, with some memory of the table."
— Charles Pierre Monselet, French author (1825-1888)
Minitas Beach was more than sun-bathing, swimming, wind-surfing and sailing.
Dining al fresco was its greatest and most welcome offering after a morning on the sand and in the water.
The Lunchtime Crowd at the Pescador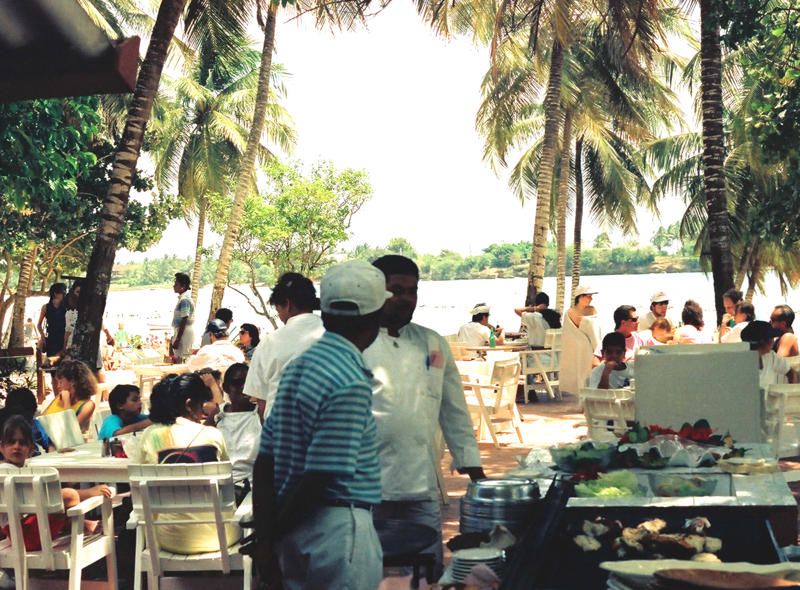 During the 1980s and 90s, the restaurant, El Pescador, was located on Minitas Beach. It was open mainly for lunch, sometimes for dinner,
and there were night-time festivals, such as Pirate's Night, when people would gather to feast and fête on the beach.
Every morning as the sun began warming up the day, El Pescador restaurant would get ready for lunch.
Morning Light on the Trees at El Pescador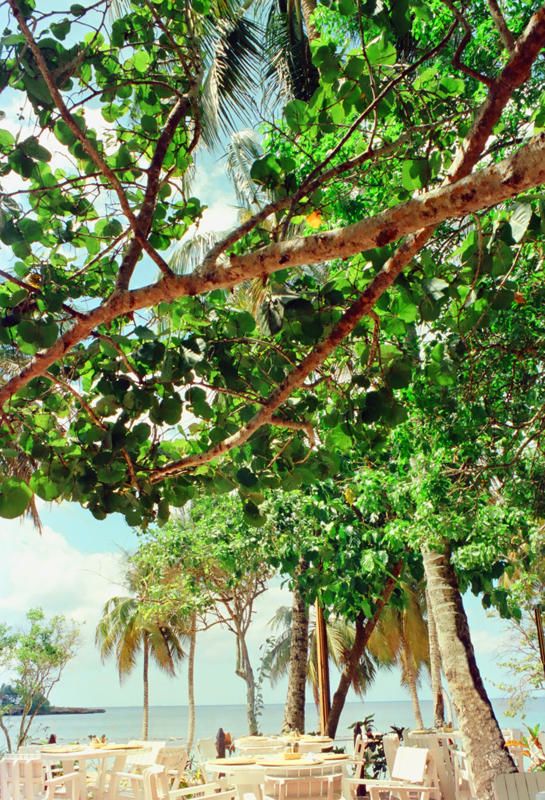 As the sun reached its zenith, El Pescador would also reach its peak of patrons.
El Pescador had a buffet table where you could pick out a raw seafood delicacy,
and have it grilled just the way you liked it.
There was an unusual menu board, designed in wood, in the shape of a fish.
One popular dish from the menu was the fresh Caribbean Yellowfin Tuna sandwich.
Grilled Yellowfin Tuna Sandwich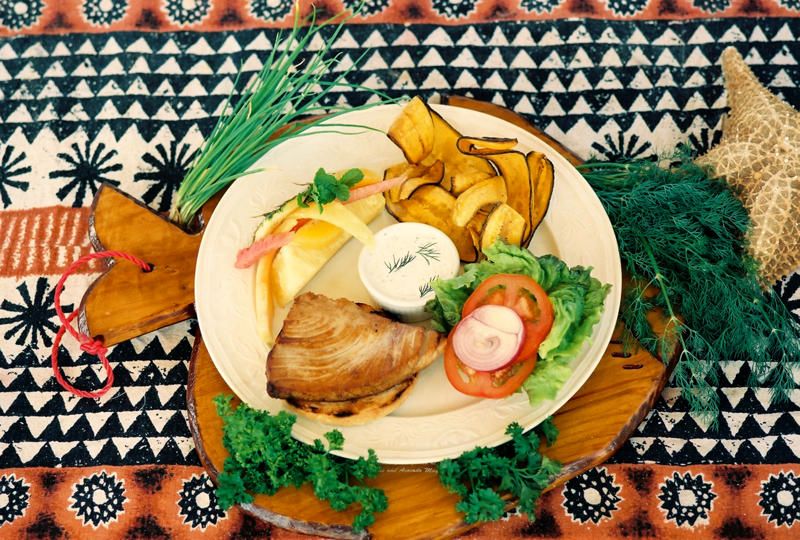 The menu also offered a bountiful seafood salad,
and a platter of scrumptious butterfly shrimp surrounded by limes.
One time El Pescador decided to offer pizzas. This offering caused a sensation because, before this, only Café del Sol in Altos served pizzas in Casa. The shrimp pizza was the favorite, but there were cheese and pepperoni pizzas too.
One thing for certain, you never went away from El Pescador hungry. The tables were laden with delicious food for all.
When sunset arrived on Minitas, buffet tables in the shape of boats would be set up on the beach.
As the moon rose over Minitas, the scene was set for a beautiful evening.
Many thanks to Carol Burke for another wonderful article! If anyone would like to view Carol's photos in higher resolution or download them, you can do some by visiting her flickr account here: http://www.flickr.com/photos/dandelion-tree/collections/72157624697056850/
Also below are links to all of Carol's previous articles!
Memories of Casa de Campo: La Romana Landmarks
Memories of Casa de Campo: The Children of Casa – part 1
Memories of Casa de Campo: Children in Casa – Part Two
Memories of Casa de Campo: Dueños 1991-Polo
Memories of Casa de Campo: The Casa Coast
Memories of Casa de Campo: Sweet Things in Casa
Memories of Casa de Campo: Afternoon Appetizers
Memories of Casa de Campo: The Casa Coast
Memories of Casa de Campo: Donkey Polo As It Was Then
Memories of Casa de Campo: An Afternoon at Caña Bar
Memories of Casa de Campo: Summer Reflections
Memories of Casa de Campo: Exploring the Batey in the Year of the Oxen-1997
Memories of Casa de Campo: The Fiestas of Altos de Chavon
Memories of Casa de Campo: The Friday Market in La Romana
Memories of Casa de Campo: A Visit to Boca Chavon Village with a View to Casa de Campo
Memories of Casa de Campo: Walking to Boca Chavon, Where the River Meets the Sea.
Memories of Casa de Campo: The Casa de Campo Cookbook
Memories of Casa de Campo: Altos Every Moment
Memories of Casa de Campo:The Trees Where I Lived
Memories of Casa de Campo: The Skies of Casa de Campo
Memories of Casa de Campo: Sports and Activities
Memories of Casa de Campo: From Café El Patio to Altos de Chavon After the Hurricane
Memories of Casa de Campo: Before and After Hurricane Georges
Memories of Casa de Campo: Surveying the Damage After Hurricane Georges
Memories of Casa de Campo: Café del Sol, a Leafy Retreat from the Day
Memories of Casa de Campo: Walking on the Wild Side of Casa de Campo – From Altos with Love
Memories of Casa de Campo: Trees, Flowers and Gardens – From Heavenly to Humble
Memories of Casa de Campo: around La Romana with the in-laws
Memories of Casa de Campo: remembering La Romana
Memories of Casa de Campo – A Roadside Attraction on the Way to La Romana
Memories of Casa de Campo: the magic of Christmas time!
Memories of Casa: Casa Kids on the Beach at Dueños '91
Memories of Casa de Campo – The Dancing Dueños
Memories of Casa de Campo: "Miss, Mrs. & Mr. Dueños '91″
Memories of Casa de Campo – Art Exhibits in the Altos de Chavon Art Gallery
Memories of Casa de Campo: Polo Season
Memories of Casa de Campo: 'Villa Visions' Magazine
Memories of Casa de Campo: Altos de Chavon is a Work of Art
Memories of Casa de Campo – the Altos de Chavon amphitheater
Memories of Casa de Campo: The Magic of Altos de Chavon
Memories of Casa de Campo: Walking Daisy Dandelion on the Teeth of the Dog
Memories of Casa de Campo: Hello, my name is Carol
Memories of Casa de Campo: Punta Aguila airport