This post is also available in: Spanish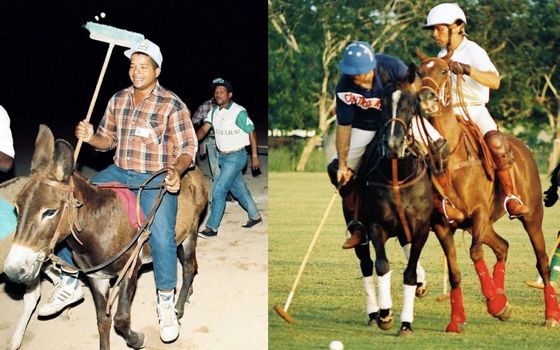 In this week's 'Memories of Casa de Campo' post Carol Burke, reminisces about the Casa de Campo Donkey Polo tournaments of the 1990's – it seems they were a little different to the Donkey Polo we experienced this weekend at the Ye Ol'Fashioned Hoedown!
To carry his load without resting, not to be bothered by heat or cold and always be content: these three things we can learn from a donkey. — Indian Proverb
In the early 1990s the donkey polo games at Casa de Campo were a lot less glamorous than they are now considering the donkey polo event recently with the Miami Dolphin Cheerleaders.
Donkey Polo was a popular group activity for visitors to Casa de Campo. One of the theme parties, "A Night on the Ranch" started with an exciting game of Donkey Polo. Each guest received a straw hat on arrival and after the Donkey Polo match there would be a Western-style banquet with grilled ribs, chili con carne, roast beef, corn on the cob, fresh vegetables, corn pudding, salads, fruits, and desserts.
The waiters were dressed in blue jeans and cowboy shirts and the maitre d' was dressed as the Town Sheriff. A country-western band and everyone dancing made Western Ranch Night events real hoe-downs.
Donkey polo in Casa de Campo was a lot of fun and still is.
Donkey polo is to polo as broomball is to ice hockey; it's an alternative game played for fun and for the amusement of the spectators.
In broomball all the rules of ice hockey apply but there is no checking allowed. Checking in ice hockey is when one player slams into an opposing player.
In polo, the players check by pressing their ponies into the opposing players' ponies at top speed.
Horse pressure is on in a real polo match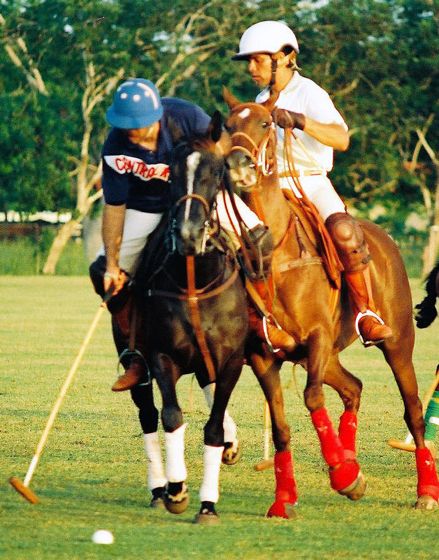 Both ice hockey and polo are fast-moving games. Broomball and Donkey Polo are a little slower and no one gets hurt.
Jabar Singh Hijo, one of Casa de Campo's top polo players observing Donkey polo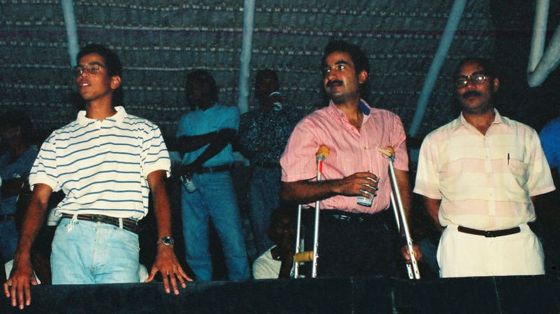 In Ice Broomball the players wear tennis shoes, not ice skates, and hit the ball with a broom, and in Donkey polo they ride on donkeys and hit the ball with a broom.
Playing Donkey Polo at the Dude Ranch in Casa de Campo makes any vacation memorable.