This post is also available in: Spanish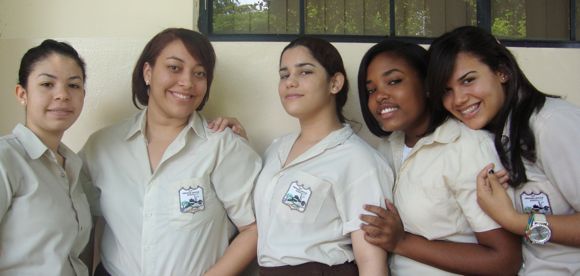 Recently,  a small group of 12th grade pupils from the Abraham Lincoln school enrolled on our 'Casa de Campo Living Internship,' the aim of this is to teach these 5 keen youngsters all about websites, blogs, writing and reporting. I hope that with the help of these 5 highly intelligent, highly motivated interns, together we will be able to publish many more articles per day, cover more events and include a variety of new posts – such as book, cinema, music reviews, fashion ideas and tips, and much more.
So here they introduce themselves to you:
My name is Elizabeth Silfa, I'm 17 years old and I just enrolled to do an internship at the Casa De Campo Living Website. I'm a Senior at the Abraham Lincoln School and I very much enjoy writing, playing tennis, singing, reading a good book or just having a good laugh with my friends. I'm very passionate about Law and International Relations & Diplomacy and would like to pursue a career in one of these areas at College. Meanwhile, before I have to go out into the unknown world of adulthood, I wanted to get involved in what's happening in Casa de Campo.
I am very fond of music and fashion and I hope I'll be able to study fashion design at Chavón School of Design next year and later on transfer to Parsons in New York. I am introverted yet friendly, and I am open to all kinds of people.
My name is Michelle Bermudez and I'm a current student at Abraham Lincoln School. I'm 18 years old and a senior! I'm the type of person who is always thinking about lots of things at the same time. Music is my life, as well as books, a good cup of coffee, friends and most of all, my family. My main goals in life are: to become a successful architect, go to Rome and do my master's and maybe even live there! I feel very lucky to contribute to Casa de Campo Living, because knowing my words are being read by someone means a lot to me!
Hey! My name is Priscilla Báez, I'm 17 years old and I'm a senior at the Abraham Lincoln School.
My interests are reading, having fun with my friends, going to the beach and teaching small children. I enjoy classical music, and my favourite band at the moment is Muse. I'm very excited to be an intern at Casa de Campo Living.
Well, what can I say about me? I am a Christian. I hope this doesn't shock anyone!  But I am a person with very simple needs. I like a little bit of everything,  let's say I am a person who conforms with the majority of things. I like going out with my friends, it doesn't matter where, but with whom! I try to have a lot of fun and never think about  problems, I just enjoy the moment. My favourite colour is Aqua Blue. I like dogs a lot! They are cutest thing ever! I have two at home and their names are Snoopy and Starky. I am not that in to sports, but I like to watch football and tennis matches.  I like to play tennis but  frankly I get tired easly. This is only an over view of my life!