This post is also available in: Spanish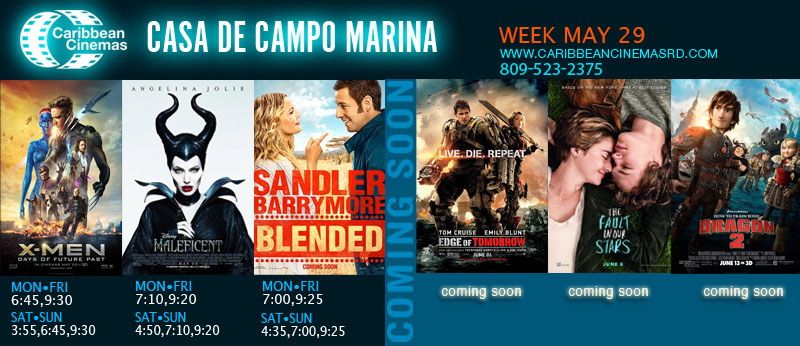 For this week the Marina Casa de Campo Cinema brings us 2 new movies: "Maleficent"and "Blended" still playing is "X-Men: Days of Future Past". Please also remember that the Marina Casa de Campo cinema is now open EVERY DAY until further notice.
X-Men: Days of Future Past  View trailer
The X-Men send Wolverine to the past in a desperate effort to change history and prevent an event that results in doom for both humans and mutants.
Maleficent  View trailer
Maleficent explores the untold story of Disney's most iconic villain from the 1959 classic Sleeping Beauty and the elements of her betrayal that ultimately turned her pure heart to stone. Driven by revenge and a fierce desire to protect the moors over which she presides, Maleficent (Angelina Jolie) cruelly places an irrevocable curse upon the human king's newborn infant Aurora.
Blended View trailer
After a bad blind date, a man and woman find themselves stuck together at a resort for families, where their attraction grows as their respective kids benefit from the burgeoning relationship.
We publish the new movie times as soon as we receive them – normally on Wednesday afternoons.