This post is also available in: Spanish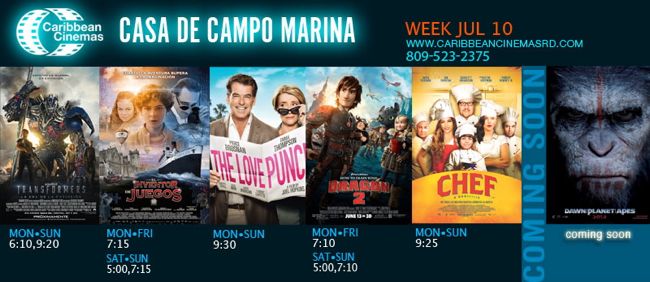 For this week the Marina Casa de Campo Cinema brings us 2 new movies: "The Love Punch" and "The Games Maker" still playing are "Transformers Age of Extinction", "Chef" and "How To Train Your Dragon 2". Please also remember that the Marina Casa de Campo cinema is now open EVERY DAY until further notice.
The Love Punch View trailer
A divorced couple scheme to recover the retirement money that was stolen from them.
The Games Maker View trailer
Young Ivan Drago's newfound love of board games catapults him into the fantastical and competitive world of game invention, and pits him against the inventor Morodian, who has long desired to destroy the city of Zyl, founded by Ivan's grandfather. To save his family and defeat Morodian, Ivan must come to know what it is to be a true Games Maker.
Transformers Age of Extinction View trailer
A mechanic and his family join the Autobots as they are targeted by a bounty hunter from another world.
Chef View trailer
A chef who loses his restaurant job starts up a food truck in an effort to reclaim his creative promise, while piecing back together his estranged family.
How To Train Your Dragon 2  View trailer
When Hiccup and Toothless discover an ice cave that is home to hundreds of new wild dragons and the mysterious Dragon Rider, the two friends find themselves at the center of a battle to protect the peace.
We publish the new movie times as soon as we receive them – normally on Wednesday afternoons.