This post is also available in: Spanish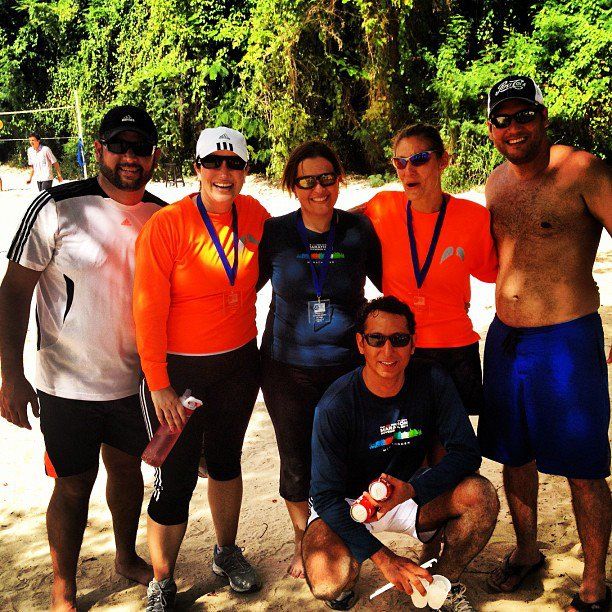 Last Sunday the 8th of July a group of 42 sporty (ish) and enthusiastic Casa de Campo villa owners and residents gathered at Minitas Beach to battle it out in the 1st "Flamboyant Beach Volleyball Tournament."   
"It was really fun!! I think the best part was spending time with friends who we have not seen for a while – playing a team sport……especially when most of us had not played for at least 20 years!"
— Carmen "Tata" Santoni
The tournament, organized by fun-loving members of the Casa de Campo community; Carmen "Tata" Santoni, Ana Elmufdi and Julio Zeller (and their respective partners) was a huge success, turning an ordinary Sunday at Minitas Beach into a fun and dynamic event, which was not only great fun for the 42 players involved, but also the numerous spectators, who gathered around to cheer on their favorite teams!
"Los Azules" took 2rd place in the Flamboyant volleyball tournament!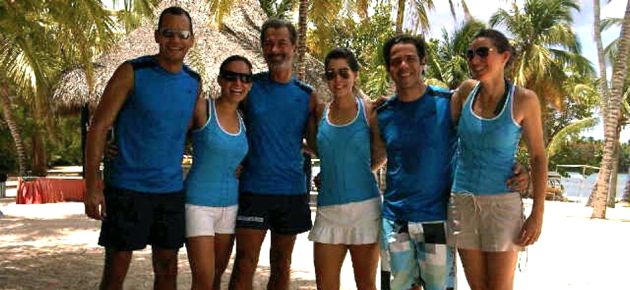 "It was an awesome day! BBQ afterwards and then a little much deserved splash in the sea."
— Patricia Peguero-Zeller
The winners!

From the 42 players, 7 teams were created – with 3 couples on each team, and following a fierce but friendly battle the top #3 winning teams were placed as follows (and they even got medals!):

1st Place: "Los Metro", America and Homero De Pool, Gisselle and Eugenio Ravelo, Michaela and Eduardo Felix
[Pictured above]

2nd place: "Los Félix", also referred to as "Los Solteros", Alejandro Castillo, Ivette Michelli, Claudio Castillo, Carlos Martinez, Jonathan and Raysa

3rd place: "Los Azules", Julio and Patricia Zeller, Johanna Martinez-Lima, Arturito Quezada, Pilar Camarero and Eduardo Hanna
"The tournament was amazing, everyone enjoined it immensely – but we are all sore with scars. My team did not practice at all, Tato had never played volleyball in his life, and I happen to be very competitive …….we came out in fourth, out of 7 teams 🙂 not bad at all."
— Ivonna Sosa
Congratulations to all the participants and especially to the organizers for planning and executing such a fun activity!
What's next? The good news is that the organizers of this event are already planning the next community tournament, which will be – the Flamboyant Domino Tournament! As soon as we have more details we will let you know!
Photos contributed by Michaela Arriaza and Patricia Peguero-Zeller – THANK YOU!