This post is also available in: Spanish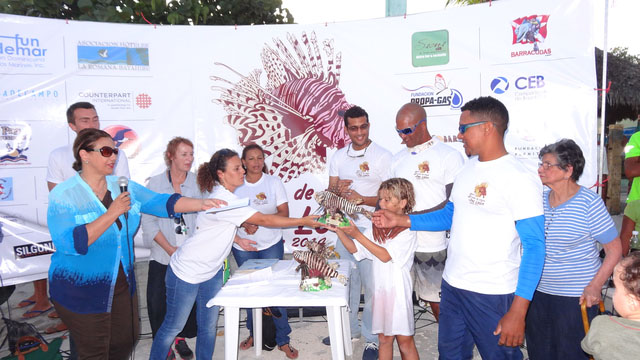 On Saturday December 13th, the third annual lionfish fishing tournament took place, an event organized by the Fundación Dominicana de Estudios Marinos (FUNDEMAR) with the support of numerous sponsors, the Bayahibe community, the Hotels Association and the La Romana -Bayahibe Tourism Cluster.
Like the previous tournaments, the event focussed on the capture of lionfish, an invasive species which is a threat to the Dominican marine ecosystems. The tournament aims to promote the capture and consumption of lionfish.
The event was a total success with a total of 469 lionfish captured, following which they were cooked for the contestants and visitors to eat. And in addition to an icreasing number of participants, over the years, we have also seen a notable decline in the number of lionfish sightings in the diving areas in the country… unfortunately however, regardless the lionfish has a great reproductive capacity and this is shown in the capture data: 452 in 2012, 384 in 2013, and 469 in 2014.
Lionfish Facts

• A lionfish can eat up to 20 fish in less than 30 minutes.

• Can extinguish 80% of the native fish in very little time.

• Lays between 1,500 and 2,000 eggs 3 times a month (that's around 4,500 eggs every month)

[Photo by Walcott Perry]
 About FUNDEMAR

FUNDEMAR is an organisation dedicated to  promote, advice and keep the use of the marine ecosystem sustainable through research, education and conservation politics. It poses a team technique based on scientific, vocacional and efficient work, which develops the projects with the mission of completing the objectives of the organisation.

FUNDEMAR website: www.fundemar.org.do