This post is also available in: Spanish
In need of a new spot for dinner? Why not look to an old favorite? La Piazzetta, whose classic Italian flair has been around since the conception of Altos de Chavón, livens up its menu with new summer options. Under the management of Massimo Caretta with Chef de Cuisine Manuel Sánchez, La Piazzetta boasts summer plates that are amazingly refreshing. The Oven Roasted Catch of the Day, featured above, certainly made our Top Pick. Elegantly presented, the dish came with vegetables and salsa cruda. Along with several dishes that are ideal for summer, we here at Casa de Campo Living found it to be unforgettable. See the complete list of new menu options below:
Bresaola from Valtellina Carpaccio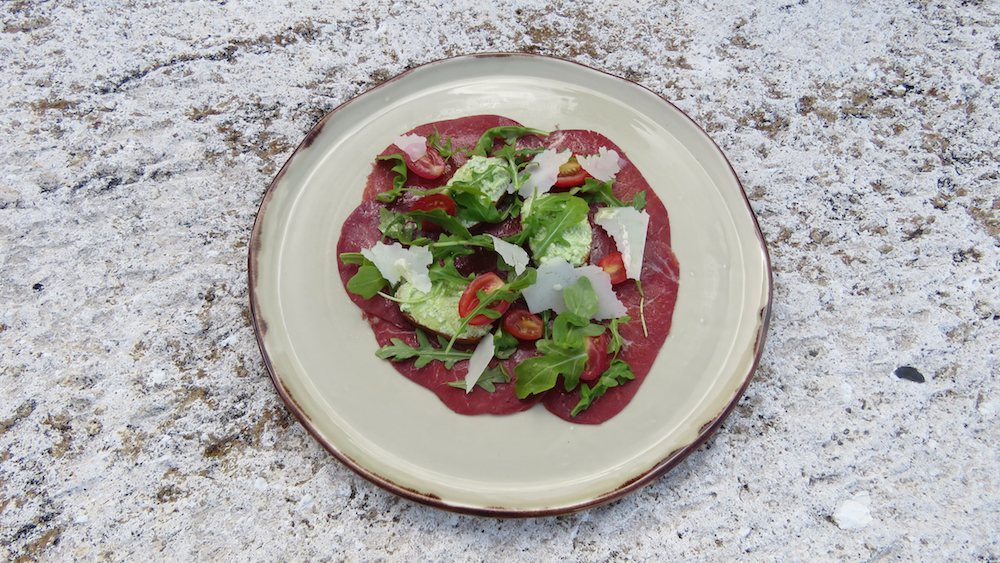 A light, smoked beef carpaccio can be had over a warm summer evening for a pleasing, not-to-heavy dish. The bresaola carpaccio comes with bites of pesto crostini, arugula, and parmesan. Share it with friends along with the restaurant's redesigned antipasti bar and a salad and you're all set!
Homemade Spaghetti "Chitarra"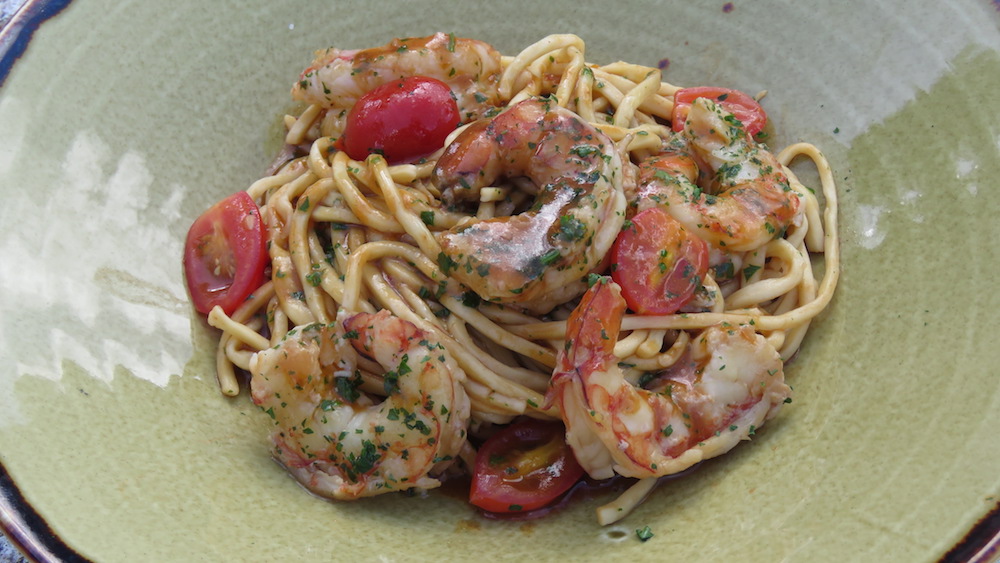 The Spaghetti "Chitarra" isn't your classic spaghetti… Made in a boxed-pressed cube-style, typical of central Italy, the homemade pasta differentiates itself in more ways than one. Imported shrimp from the south of Spain are incredibly juicy and add a lot of flavor to the dish. Have the spaghetti "chitarra" with a glass of wine and you'll swoon over every bite.
Homemade Ravioli with Sweet Green Peas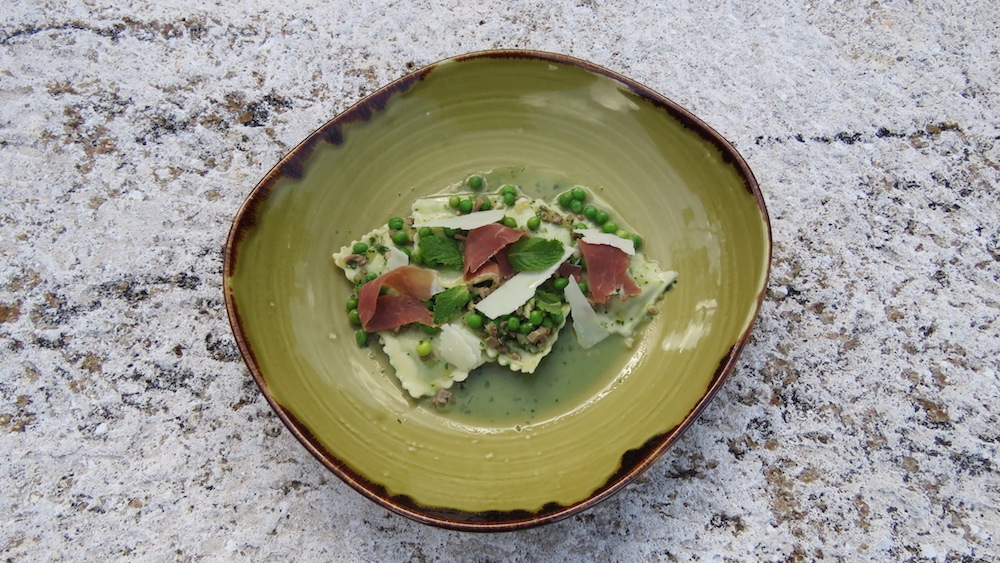 The refreshing sensation of this homemade ravioli came from the touch of mint. What may normally include basil, La Piazzetta kicked the dish up a notch with a new herb. Filled with mashed potato purée and topped with sweet peas, San Daniele Jam and parmesan cheese, this ravioli has our 'summer seal of approval.'
Grouper Filet served with Clams, Pomodoro, Olives and Capers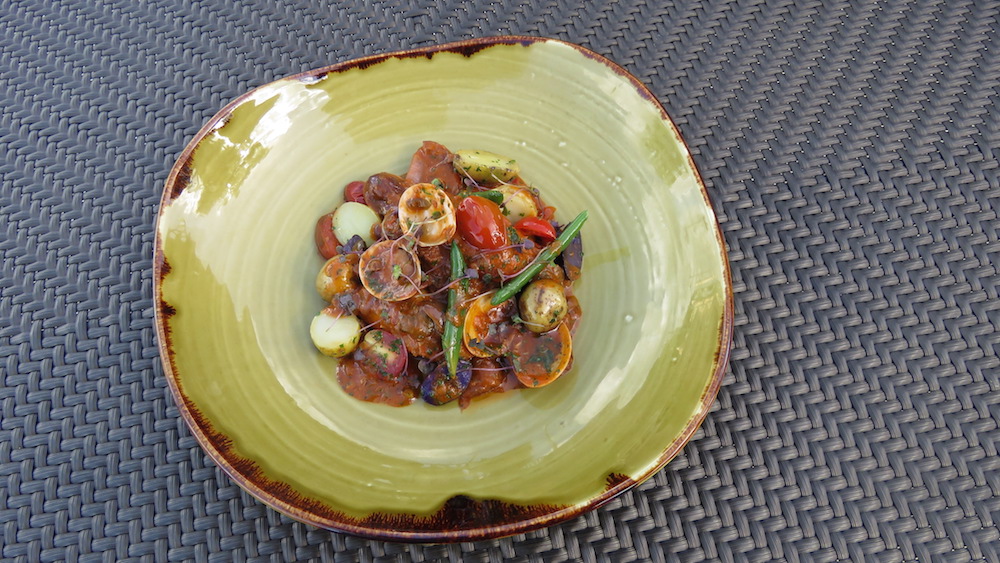 This Mediterranean combination features poached grouper with baby potatoes, long beans, and vegetables. Guests will enjoy the fish's soft texture and the blend of flavors throughout the entire dish. Since the whole recipe is cooked together, each ingredient takes something from another.
Milanese Chicken Breast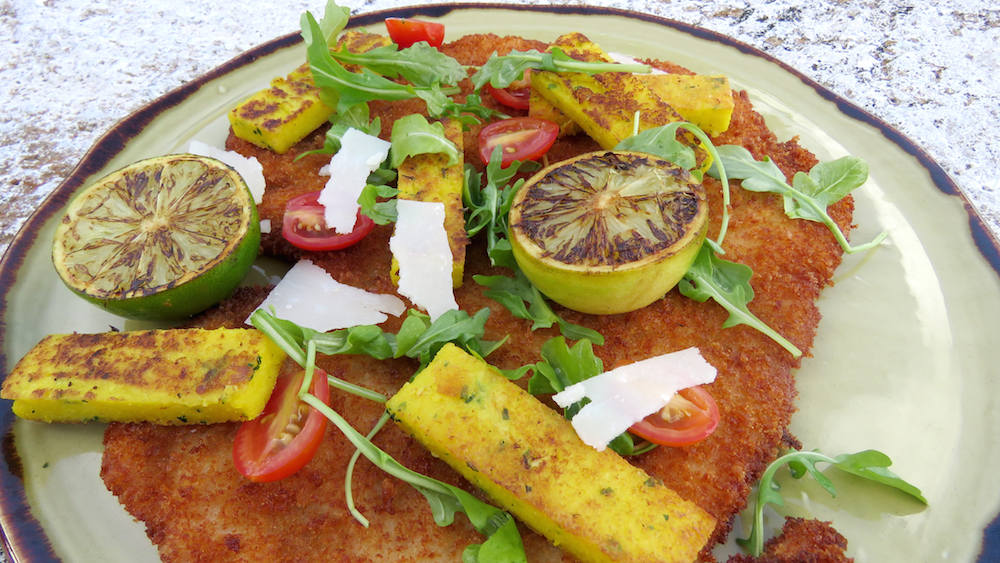 Milanese is a famous breaded preparation— and at La Piazzetta they incorporate Panko flour (a flaky bread crumb typical of Japanese cuisine) to give the milanese chicken a very crunchy outer layer. Polenta corn, rucola salad and cherry tomatoes make this dish light and filling!
Pork Piccata with Lemon Curry Sauce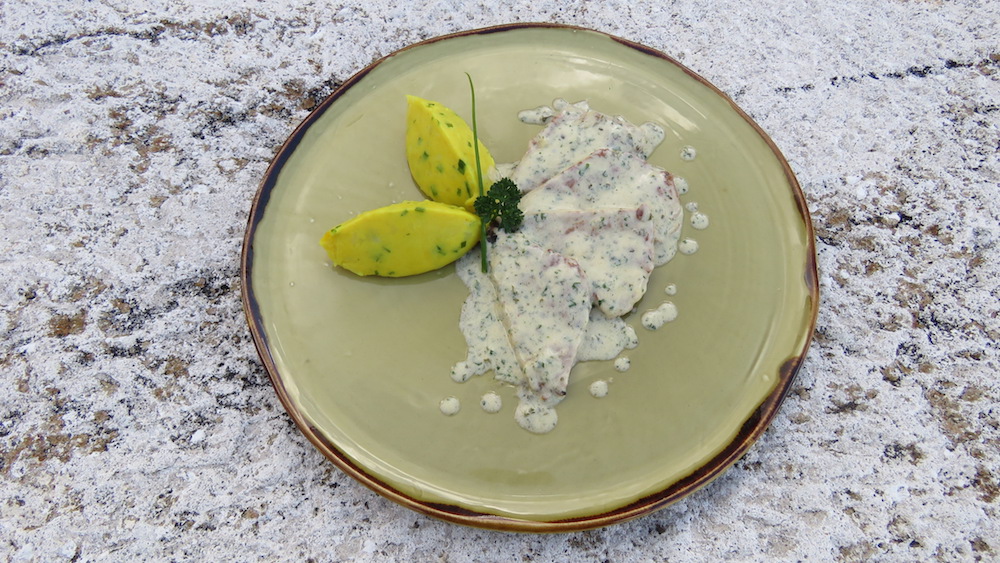 If you want to tickle your taste buds, try the pork piccata. Prepared with a lemon cream sauce, this dish's lemon flavor is strong and awakening. We love the thinness of the pork combined with the rustic potato purée with saffron.
Beef Tenderloin "Tagliata"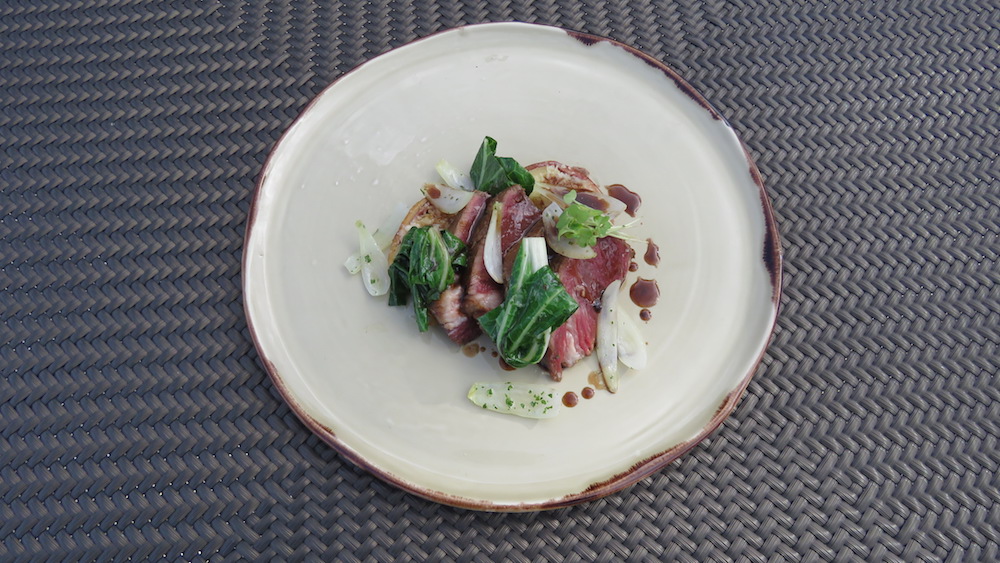 Partial to beef, we especially enjoyed the tender and extremely flavorful beef tenderloin. Sliced in Italian "tagliata" style, this dish features roasted onions, local fresh peanuts, and "Bok Choy" spinach in a red wine sauce. We can only describe it as pure art.
Massimo explains the secret behind each dish is its harmony. While each summer plate is appropriate for different moods and times of day, the excellence comes from the ingredients' aroma and well-crafted blend. The inspiration for a menu change came with the changing of the season. Just like one alternates their wardrobe, Altos de Chavón's oldest restaurant opted for a fresh and appetizing new selection!
We couldn't end the day without sampling the desserts, of course. In the gallery below, you'll find Mille-feuilles with Lemon Cream, Fried Creamy Pastry with Cinnamon and Vanilla served with Amaretto sauce, and Panna Cotta with Hint of Sambuco Flower and Red Amarena Cherries. On a warm day, or after a big meal, you might be tempted to skip out on dessert, but we beg you not to! The beauty of these desserts is that they're light and simple, adding just the right amount of sweetness to wrap up a savory meal. Visit La Piazzetta for the complete culinary experience.
Photos and gallery of La Piazzetta's new summer menu by Elizabeth Peguero:
LA PIAZZETTA

Where:

Altos de Chavón, Casa de Campo

Hours of Operation:

Everyday 6pm – 11:30pm

Reservations: Contact Casa de Campo's concierge at (809) 523-3166