This post is also available in: Spanish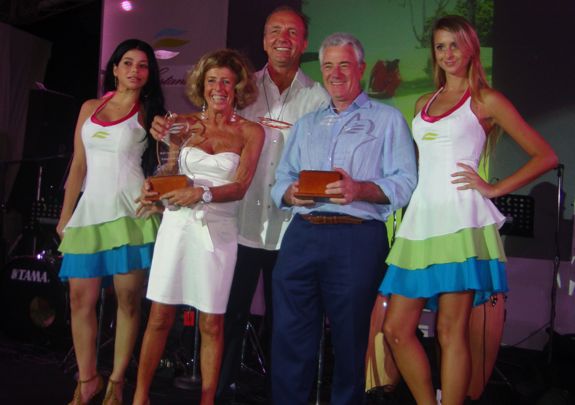 The 3rd annual La Estancia Golf Classic 2010 golf tournament, last Saturday the 1st of May was certainly one of the most fun golf tournaments I've ever played in and even better was the prize-giving party! 
Following a very competitive and exciting day on the golf course, us competitors went home to shower, change and beautify ourselves. We returned to the La Estancia Club House around 8pm to find it had been transformed into a party area – complete with stage, band, music, drinks and thankfully food!
But before the party really began, there was the prize-giving ceremony (which I was especially excited about), when Tiberio Avanzini and a tribe of La Estancia models handed out awards to all the winning golfers!
The following are a list of all the winners: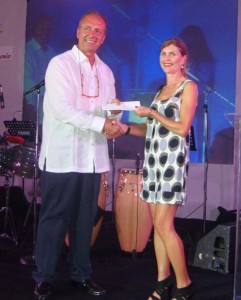 Best Gross: Jonh Swanner Richard Coyler  – 70 Gross
Categoría A:
Máximo Pérez Claude Gamez Pérez 1er Lugar – 57 Net
Juan Nutt Juan Carlos Castellanos 2do Lugar – 62 Net
Greg Sherwood Roger Hruby 3er Lugar – 64 Net
Categoría B:
Juan Ávila Cesar Vicioso 1er Lugar – 64 Net
Marcela Bettoni Vittorio Di Silvio 2do Lugar – 65 Net
Federico Félix Ramón Campechano 3er Lugar – 67 Net
Categoría C
Ángela Rosario Rebbeca Hughes 1er Lugar  – 69 Net
Charles Coto 2do Lugar – 75 Net
Andrés Olivares Jonh Machado 3er Lugar – 79 Net
PREMIOS ESPECIALES.
Mejor score de dama: Adriana Feaugas
El jugador más perdido: Andres Olivares
El drive mas corto, Hoyo 9: José Mercedes
La pareja mejor vestida: Ron Scornavacca & Tom Faust
As you can see from the winner's list I WON!!! Angela Rosario and I actually won first place in Category C – which in my world means we basically won the tournament! (Unfortunately, if you consider the fact that there was only 3 teams playing in Category C – it's not such a great achievement, nevertheless we still won an enormous trophy!)
Here Angela and I receive our trophies: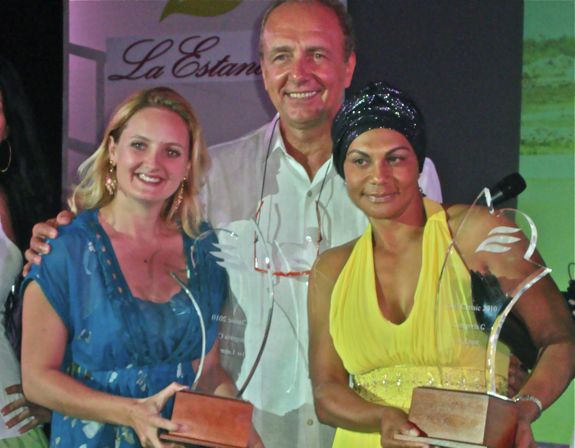 Here are my photos of the golfers receiving their prizes for their golfing skills (or lack of) and the prizes from the raffle!
CONGRATULATIONS TO ALL THE WINNERS!
PHOTOS of the party soon!